One of the city's largest public housing high-rise estates could be demolished and replaced with new public and private developments under a radical state government proposal.
Walk-up flats and 1960s high-rise blocks at Horace Petty, Bangs, King and Essex streets estates in Prahran could be demolished to make way for new units as part of an overhaul of housing for low-income earners.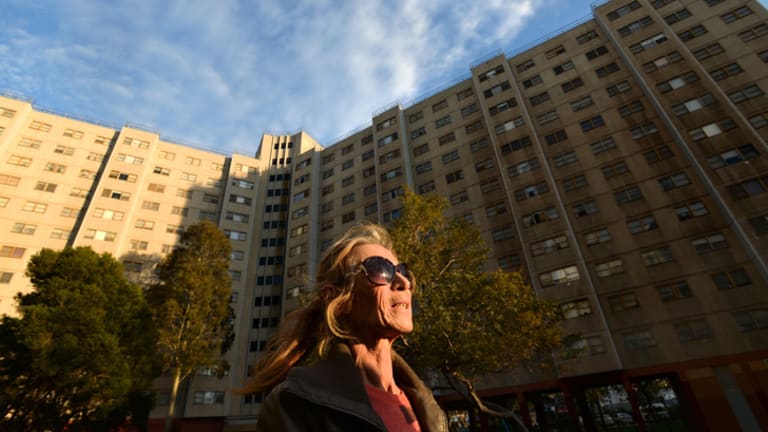 Another option being considered would retrofit the existing towers, demolish the walk-up flats, and build new housing on the estates, which are home to 1220 households.
Artist impressions of the draft government plans - created by architectural firm Hassell - were recently presented to Stonnington council and will be released for public consultation in the next few weeks.
They show a new road running through Horace Petty estate from Surrey Road to Bray Street, which is designed to reintegrate the estate with the surrounding area.
Rooftop community gardens, a large park on Malvern Road, pedestrian-friendly paths, shops and offices, are also on the cards.
The revelations follow the state government suspending plans for the renewal of Richmond and Fitzroy estates last March, following a vocal community campaign.
A government document said private and affordable housing would help underwrite the cost of overhauling the Prahran estates, which are located on lucrative, inner-city land.
''The introduction of private housing will also contribute to the cost of upgrading facilities for social housing tenants.'' It said there would be no net loss of public housing and the community could respond to the draft plans.
Last year, The Age revealed the state government was considering a dramatic shake-up of the Fitzroy, Richmond and Prahran estates that could lead to an equal mix of public and private developments.
Kazim Can, 26, has lived in Horace Petty since he migrated to Australia from Turkey 10 years ago and supports the older estates being pulled down and replaced with newer homes. But he said he would be concerned if the size of the units shrank.
But 63-year-old Rhonda Toy, who grew up on the Prahran estate, said she loved the towers and did not want to live in new buildings. She said her high-rise unit had been renovated ''beautifully'' and the disruption of moving would be stressful, particularly for the elderly. ''New units are like a motel. They are so close to each other and there's really no privacy. I'm happy here, it's well built.''
Prahran MP Clem Newton-Brown said the estates were ''islands of disadvantage'' and residents were excited about their renewal. ''It may have been world's best practice half a century ago to house people in these towers. But they are inhospitable places with little connection to our diverse community.''
Housing Minister Wendy Lovell said the renewal would create opportunities for tenants.
Opposition housing spokesman Richard Wynne said the Napthine governments's ''secret sell-off agenda'' had been revealed and he would fight any dislocation of public housing tenants.
Socialist Yarra councillor Stephen Jolly, who spearheaded a campaign against the plans to redevelop the Richmond and Fitzroy estates and introduce private housing to the sites, vowed to reignite his fight south of the river.
City of Stonnington chief executive officer Warren Roberts said the council would carefully consider the master plan, ''particularly in relation to provisions for housing, open space, community facilities, integration with the surrounding area''.
The master plan, which will be completed next year, is part of a funding agreement with the former federal government and will guide development on the sites over the next 30 years. It is understood that council requested one of the plans include the demolition of the 1960s and '70s housing estates.
Morning & Afternoon Newsletter
Delivered Mon–Fri.