Roberta Williams' sister has faced court charged with multiple offences in an alleged 11-month crime spree, where police believe she stole thousands of dollars worth of luggage from unsuspecting travellers at Melbourne Airport.
Michelle Kaye Mercieca, 51, faced the Broadmeadows Magistrates Court on Tuesday charged with 19 counts of theft between October 2017 and September 2018, a haul in which she allegedly walked away with goods to a total value of at least $35,000.
Ms Mercieca was arrested in September by police who had CCTV footage of a woman grabbing luggage from a domestic baggage carousel at Tullamarine. Police recovered seven bags after an early morning raid at a property in September.
Police allege the Kings Park woman stole 18 suitcases, one of them a black guitar case with a guitar inside it worth $455.
Most of the alleged offences happened in October 2017. The most valuable piece of luggage allegedly stolen was worth $12,324 on June 2, 2018.
Ms Mercieca is also charged with separate counts of theft relating to incidents from June 2018, August 2018 and September 2018.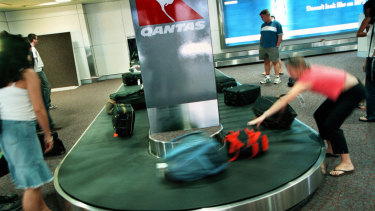 The matter was adjourned and she will face court again at a later date.
It's not the first time that thieves have targeted Melbourne Airport.
In a separate incident, police revealed in 2017 that another woman was caught on camera pinching a stack of suitcases from a carousel at Melbourne Airport, before going to her victim's home to steal valuables.
The woman stole at least four suitcases from the Terminal 4 carousel about 3pm on November 20, then went to the bag owner's home in Alma Ave, Altona Meadows.
She later broke into her victim's home and stole electrical goods, cash and jewellery.
Anthony is a reporter at The Age.