Melbourne has turned on a spirit-lifting spring day for its first fashion week shows.
David Jones took the coveted opening catwalk slots of Melbourne Spring Fashion Week today, packing standing-room-only crowds into its free racewear shows in the City Square's huge marquee venue.
Racing legend Gai Waterhouse cooled her high heels on the front row while her David Jones stable-mate, racewear ambassador Emma Freedman, introduced the collection in a hail of upbeat girly banter with Miss Universe Australia 2010, Jesinta Campbell.
"It's all about being comfortable," said Campbell at one point, of the difficult business of frocking up for the races.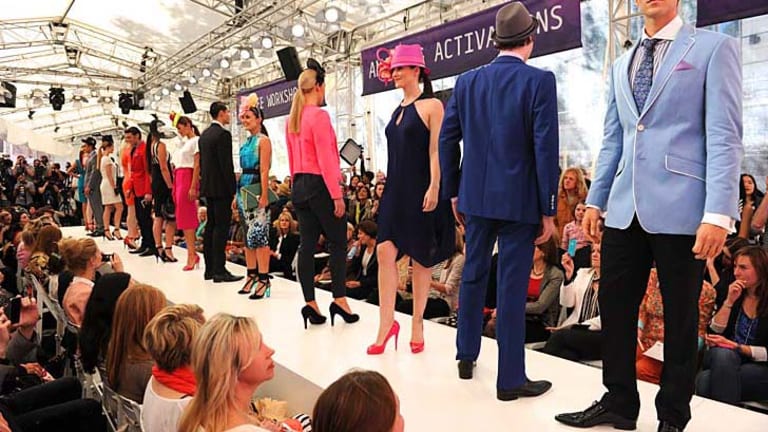 "Keep it below the knee or just above the knee," answered Freedman, addressing the ideal ladylike hemline. "Any shorter than that and you're heading into dangerous territory."
In the mostly female audience, the buzz of chatter rose when models appeared in jumpsuits and trouser suits. Pants are tipped to dominate racewear or, at worst, make a significant dent in the long reign of ubiquitous, sleeveless frocks for race days.
"Pants are what it's all about this year," said one fashion fan who had slipped into a forbidden front row seat when organisers weren't looking. "Not the jumpsuits though; they're hell to get out of when you want a wee."
Show standouts included fuschia pink silk patio trousers by Willow and swishy tailored separates in ice blue crepe with sheer inserts by Carla Zampatti.
David Jones' super model Samantha Harris also did lovely justice to a lemon lace sleeveless frock by Trelise Cooper, ensuring that genre will surely survive another season.
In the audience, Sally Reeves of Essendon, liked the look of a patterned Scanlan & Theodore silk dress from her spot in the second row, perhaps even enough to try it on later at David Jones. Provided her priorities allowed it. "We're having a catch-up and a nice day out," she said of her trip into fashion week with friend, Kathy Leatch of Sunbury.
Reeves and Leatch are typical of Melbourne's fashion week audiences in both March and September, who use shows as meeting points for social get-togethers.
Yesterday, Melbourne Spring Fashion Week's next generation was also busy at the City Square.
"I love all the free stuff and the show was good too," said a smiling Kayla Erzetic, 15. She was one of a group of Mount Waverley Secondary College students to stumble on the show during a city excursion.
She had had her blonde hair streaked purple and orange for free in a Kevin Murphy workshop and was planning to come back for more stuff, more shows, more ... "Definitely."
Morning & Afternoon Newsletter
Delivered Mon–Fri.