WHAT'S that rustling sound? That sibilant hiss as you stroll Smith and Brunswick streets, like soft wind through dry summer grass? It's the rebirth of the beard.
At the epicentre of Melbourne hipsterdom, facial fuzz has resprouted as a fashion statement. And not the shadowy 7 o'clock stubble so common for so many years, but full-fleece, chest-deep growths rarely seen since bushranger days. The urban whaler look.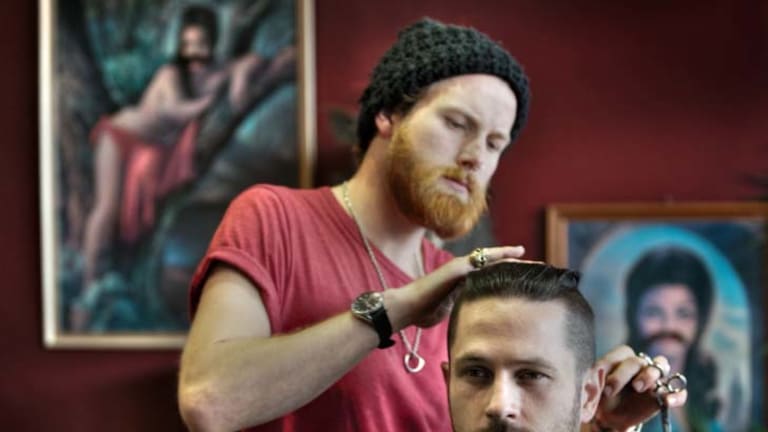 The trend towards beard-wearing is steadily growing, says Matthew Anderson, director of Chadwick Models, in volume as well as take-up. Walk down Smith and Brunswick, or Sydney Road, or through Surry Hills in Sydney, and every second guy will have facial hair, probably two out of three.
Tom Farmer, barber at Dr Follicles in Swan Street, Richmond - himself a proud beard-bearer - says the number of clients coming in with serious beards has more than doubled in the past 12 months. ''There's been a lot of half-beards out there for a while,'' he says, ''but there's a lot now taking it to the full extent and really getting a big, meaty beard on there.''
In the hipper parts of town, he suggests, you'll soon need to cut your way through with a weed whacker.
Farmer, 27, grew his beard - his first - while travelling in Canada with colleague Zac Norton in 2010. He keeps his relatively conservatively trimmed, but Norton, now travelling in Turkey, has channelled Chewbacca. ''He wants to be owner of the biggest beard in Melbourne, I think. It's enormous, down past his nipples.''
Fashion stylist and commentator Philip Boon suggests the new trend towards bigger beards, not seen since the '70s, is a reaction against the metrosexual look - ''it's your chance to add a more masculine twist to your look''.
Anderson agrees. Men feel they now have permission to embrace their masculinity, and more traditional concepts of masculinity, he says. ''I think fashion, in the broad sociological sense, has definitely moved away from the buffed, plucked, Chesty Bond-type male ideal that was around 10 years ago - the boys that were plucked and preened and pumped up.''
Zoe Foster, author of the beauty book Amazing Face, says she doubts anyone really liked the metrosexual look. ''I don't think men liked metro man and I don't think women particularly liked having a boyfriend who groomed more than they did,'' she says.
''I had a girlfriend who dumped a man because she found fake tan in his overnight bag.''
But she says the look is not just fashion-based. It's part of the hipster subculture, grown out of Brooklyn and London, influenced by the music of hirsute groups such as Mumford and Sons or Fleet Foxes, ''very folksy Angus Stone-looking men who look like bushrangers'', as well as the trend towards looking like colonial Americans: lumberjack shirts, cords, vests, the vintage industrial look. Retrosexual.
Adelaide band The Beards - saying it as it is with their song You Should Consider Having Sex with a Bearded Man - evoke hipster and lumberjack in equal measure.
But the look is slipping into the mainstream, from footballers - led by the People's Beard, ex-Bulldog, now Brisbane Lion Ben Hudson - to television, where new ABC gardening presenter Costa Georgiadis has been described as half-man, half-hedge.
But what do women think of their new fully flocculent fellas? ''I think most women will agree the perfect-looking man has what we call the Diet Coke stubble, that two or three-day growth that looks like he cares but doesn't care,'' Foster says.
''I've never kissed a man with a full beard,'' she admits. ''[Though] I think you've got to go the really short or the really long - just don't torture us with that ouchy thing.''
She should try it some time, says Simon Morgan, 30, who keeps his beard trimmed because he works in a hospital where that's preferred.
''It's the sign of a good woman that she appreciates your beard,'' he says. ''Girls who get beards tend to be a bit more free-spirited, carefree maybe.''
Morning & Afternoon Newsletter
Delivered Mon–Fri.