Townships in Victoria's alpine region have been evacuated, as spot fires from the large Harrietville fire threaten Mount Hotham.
No houses have been destroyed and conditions improved overnight, but the Country Fire Authority warned that lives and property were still at risk.
The Harrietville fire broke containment lines about 4pm on Thursday and was heading in a south-easterly direction, creating spot fires - where embers jump from the main fire and spark new blazes - about 500 metres ahead of the fire front.
The bushfire has grown to about 5000 hectares in size and firefighters are battling spot fires threatening Hotham Heights Village, Mount Hotham and Dinner Plain.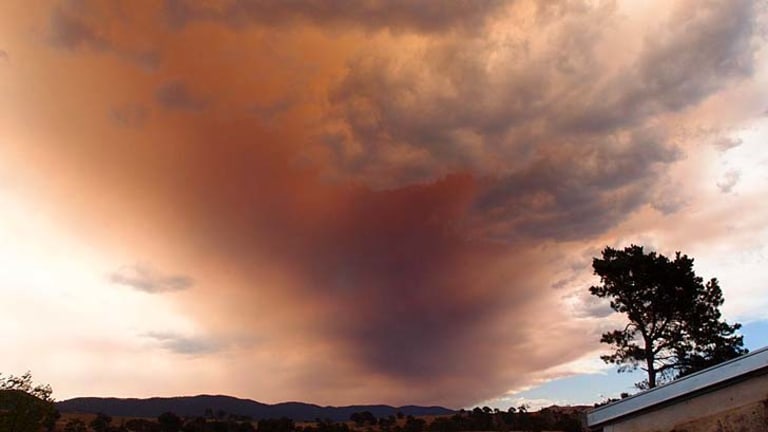 A CFA spokeswoman said on Friday morning that conditions were favourable overnight Thursday, but 123 firefighters were still on the scene. She said it was unclear if favourable conditions would remain on Friday.
Firefighters are using two tankers, 39 slip on units, which are utility vehicles with pumps and hoses, three bulldozers, three planes and six helicopters to tackle the blaze.
"The situation is still dangerous and spot fires remain unchecked," the spokeswoman said.
Residents who have not evacuated are being advised to seek shelter and the CFA says there is a risk that telephone lines may be compromised.
Mount Hotham spokeswoman Gina Woodward said the main concern late on Thursday night were two spot fires on the ski fields near lift infrastructure and a workshop area.
"We've got the snow guns running, which are like giant sprinklers in summer, to help get these fires under control," she said.
"This came so fast this afternoon, there wasn't a whole lot of warning. We evacuated staff last week, had advice to safely return on Saturday afternoon, and here we are again.
"The fires are in the ski field area so there's no infrastructure damage at this point and our teams are working hard to ensure that doesn't happen."
A CFA spokeswoman said on Thursday that four water-bombing helicopters were used to fight the fires for about 20 minutes before nightfall.
The Great Alpine Road is closed between Harrietville and Dinner Plain and the Dargo High Plains Road is closed between Great Alpine Road and Dargo.
Morning & Afternoon Newsletter
Delivered Mon–Fri.