The severe disruptions that have beset services on the V/Line rail network are expected to be resolved by June, with substantial improvements to begin kicking in from mid-March.
Free travel on replacement buses will continue but commuters will have to pay for normal services on V/Line trains after the compensation period ends on Sunday.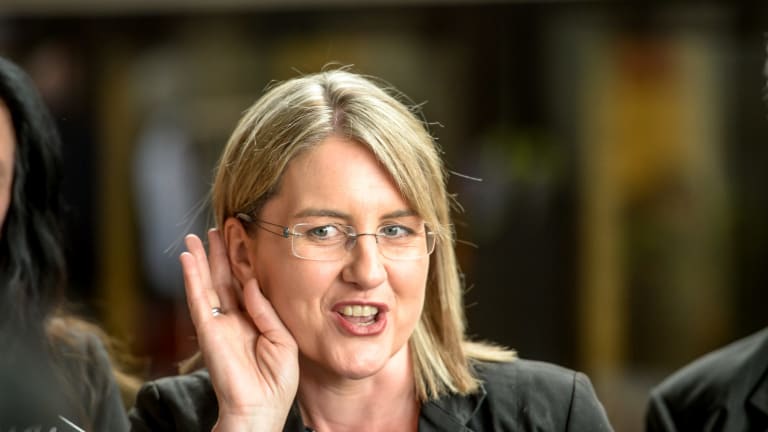 Public Transport Minister Jacinta Allan told reporters that the wheel wear rate that had plagued the network was being tackled but there was still a "way to go" before it comes down to a safe level.
She said the wheel maintenance program had been accelerated but the timetable icoming into effect from Monday would remain in place for five weeks.
In mid-March the government and V/Line would update the timetable.
Ms Allan said works to lift restrictions on the Gippsland line would also be completed by the middle of next month.
"We do expect to see in that April to June period progressively less buses replacing trains," she said.
From Monday February 15 there will be two additional Metro services between Pakenham and Flinders Street in the morning and evening peak to ease delays for commuters on the Gippsland line.
The latest update comes after weeks of protracted delays on V/Line services.
Commuters have been compensated with free travel at a cost of about $2 million a week.
The offer of free compensation was originally introduced for a week and then extended to a fortnight ending on February 7.
Ms Allan said it was too soon to determine the full cost of compensation.
The problems with the trouble-prone network also claimed the scalp of former V/Line chief executive Theo Taifalos who resigned from the top role last month.
His resignation came after maintenance issues with wheel wear emerged in recent weeks.
The failure of a boomgate to lower early enough for a for a VLocity train at the Progress Street level crossing in Dandenong also resulted in further delays on the network.
Ms Allan said the full timetable was expected to return to normal by the middle of the year.
She said buses were replacing trains on the Bendigo, Ballarat and Geelong line for about 20 per cent of services, which was expected to continue until mid March.
But from April trains are expected to begin coming back into service.
When asked if she would consider relinquishing her employment portfolio Ms Allan said she would work "incredibly hard" in both her responsibilities.
V/Line's interim chief executive Gary Liddle said a report from Monash University would provide more clarity on what had caused the wheel wear on the trains.
"Once we get that we'll have more certainty about what's led to what we're experiencing at the moment," he said.
He apologised to passengers for the ongoing delays.

Benjamin is a state political reporter
Morning & Afternoon Newsletter
Delivered Mon–Fri.