A woman who claims she was locked in a backyard shed 21 years ago where teenager Prue Bird was held captive before her murder, has denied making up the story.
The woman, who can only be identified as "Witness K", also denied suggestions that she had manufactured a story about meeting Prue's killer, Leslie Alfred Camilleri, in late 1991 through her then boyfriend, notorious criminal Mark McConville.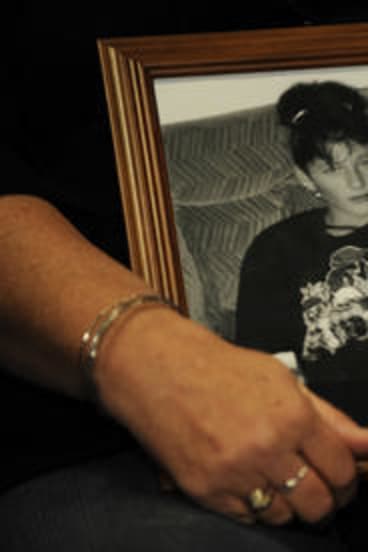 And she rejected suggestions by Camilleri's defence barrister that she was making up claims about driving around Glenroy with the infamous child killer and McConville while they searched for a girl who supposedly needed to be "bumped off".
Camilleri's contested plea hearing in Victoria's Supreme Court on Tuesday heard that after coming forward with information about Prue's disappearance, the woman had taken police to the exact house in Glenroy where 13-year-old Prue had disappeared from on February 2, 1992.
Police believe she was murdered between that day and nine days later when Camilleri was arrested interstate over outstanding warrants.
The witness testified that after being beaten by McConville on one occasion in early 1992, she woke to find she had been locked inside a shed. She said also locked inside was a girl named Prue.
She recalled the girl being "quite distressed" and wanting to go home to her mother.
The witness, who admitted to taking a daily cocktail of drugs back then, told the court that Prue had considered trying and escape through a window, but she was worried about getting caught, so she just kept telling her: "we'll be right, we'll be right."
Camilleri, 43, pleaded guilty late last year to Prue's murder, but the prosecution and defence remain in dispute about how she died.
The court heard Witness K had come forward in 2009 after seeing something about Prue's disappearance on the television. But she denied knowing anything about a $500,000 reward posted in 2008 for information relating to a conviction in the case.
Prosecutor Michele Williams, SC, said the location Camilleri had nominated to police as where they would find Prue's body had failed to uncover anything.
Another site on the Victorian side of the NSW border, where Camilleri and another convicted child killer had buried two schoolgirls they tortured and murdered five years after Prue's disappearance, had also been extensively searched and failed to locate her remains, Ms Williams said.
Camilleri is serving life without parole for the 1997 murders of Lauren Barry, 14, and Nichole Collins, 16, in 1997.
The hearing continues before Justice Elizabeth Curtain.


Morning & Afternoon Newsletter
Delivered Mon–Fri.