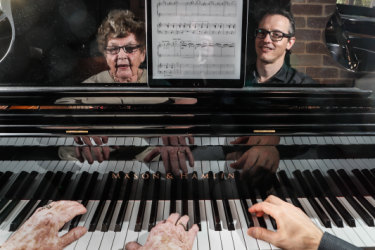 No one would begrudge Judy Hall for winding down and smelling the roses at the age of 96.
Instead, the great-grandmother and music teacher of 75 years is enjoying a budding career as a concert pianist.
Last April and May, she impressed audiences in performances of Chopin, with the Gippsland Symphony Orchestra, at Sale and Warragul.
That led to a dream gig in November, playing with the orchestra at Melbourne Town Hall.
Now Mrs Hall is among the musicians hand-picked to perform at Melbourne Recital Centre's 10th anniversary concert on February 8.
Mrs Hall says she is ''floating'' at the prospect. ''It's like you're up on cloud nine, or you're on another planet,'' Mrs Hall said.
''You're sort of not on the ground. It's not real. But I've just got to hold myself together mentally to say that I've got a job to do.''
As she tackles Franz Liszt's sometimes frenetic Hungarian Rhapsody No. 2, Mrs Hall will also be putting her teaching talents on display.
Making up a trio with Mrs Hall, on two pianos, are Timothy Young, 48, who is the Australian National Academy of Music head of piano and chamber music, and recent ANAM alumnus Alex Waite, 26.
Both men were Mrs Hall's child pupils in Moe, and are among many career pianists and teachers that she taught.
She chose the Liszt piece ''because musically, it had a bit of everything, slow, beautiful, quick exciting. I just wanted something that had the lot."
Arthritis means she can't always stretch her fingers, but it's solved by ''Tim's meandering around'' from the higher notes, while she takes the lower part.
Melbourne Recital Centre programming director Marshall McGuire asked for Mrs Hall to perform at the gala after hearing of her performance at Melbourne Town Hall.
Mrs Hall says, ''I'm hoping that from this one, I might get another gig. Someone said, 'she'll be in [London's] Wigmore Hall next'.
"But I'm afraid I'm making my run too late."
She started learning piano in Trafalgar aged 11 and at 19 studied for three years with Austro-Hungarian born teacher Edward Goll, until he died in 1949.
Mrs Hall learned valuable teaching technique age 50 when she studied with Italian teacher Lidia Baldecchi Arcuri.
Mrs Hall attributes her current agility to the discipline of regular teaching: she still has six students, most piano teachers themselves.
Timothy Young lauds Mrs Hall's capacity to continue learning, ''which means you're constantly thinking and using your brain. And as they say, use it or lose it.''
Other seniors might be into books or knitting.
''But if  you happen to like music, it's almost like religion," Mrs Hall says. "I always say Bach is my God. It touches me so much. It's hard to explain.''
Tickets to the Melbourne Recital Centre's 10th Birthday Gala Concert, cost $10.
Performers including Tony Gould and Ronald Farren-Price on piano, William Barton on didgeridoo, and 11-year-old violinist Christian Li.
Carolyn Webb is a reporter for The Age.