WA Fisheries Department beams out real-time shark alerts in unique project
Just before 8am on Thursday a 2.5-metre tiger shark made its way through the temperate waters of Perth's Mangles Bay.
It wasn't seen. And it didn't cross paths with a single human being. But within seconds, the 28,310-plus Twitter users following Surf Life Saving Western Australia's account knew it was there. The shark's silent swim had been detected by one of 19 satellite-linked monitoring stations off Perth's coast.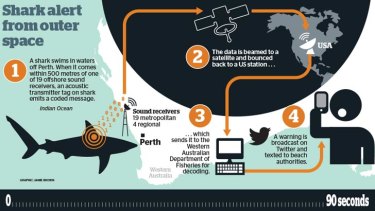 The shark's presence was picked up by a listening station, which recorded the acoustic transmitter, or tag, attached to the animal by the West Australian Department of Fisheries.
The tag emits a unique coded message that is recognised when tagged sharks come within 400-500 metres of a listening station - typically located 400-600 metres offshore from popular beaches.
In super-swift time, the information is beamed up to a satellite, bounced back to a North American station before being sent to the WA Fisheries Department where the data is decoded, broadcast on Twitter and distributed via SMS to beach authorities.
''It takes less than 30 seconds to go from being detected to being up and publicly available,'' said the department's shark response unit manager Lisa Clack. ''It's certainly been very valuable in both providing real-time information allowing us to close beaches, but also providing data for long-term research projects on white sharks.'' Ms Clack said it was a unique use of the technology, with no other country offering real-time alerts.
Almost 340 sharks have been tagged as part of the project, which was established in 2009 to monitor shark movements. Among the sharks tagged so far are 142 white sharks, 176 whaler sharks and 20 tiger sharks.
The tags are attached either externally on muscle near the dorsal fin or internally, when circumstances allow Fisheries Department staff to carry out the surgery.
The information is valuable for beach-goers, lifeguards and scientific researchers alike. In the case of the highly mobile white sharks, the tracking program will allow scientists to monitor the vast distances the migratory animals travel.
Department of Fisheries principal research scientist Rory McAuley said the battery life of internal acoustic tags was up to 10 years, making the scientific data collected unprecedented.
There have been seven fatal shark attacks off the WA coast in the past three years, the most recent being surfer Chris Boyd in Gracetown in November. From January, the WA government will distribute up to 72 hooks loaded with poisoned shark bait in waters a kilometre offshore from popular beaches. Of the 370 shark species worldwide, more than 160 species live in or pass through Australian waters. More than 100 of those are found in Western Australia.