After an 'intensive' manhunt police have arrested a man they believe was involved in the theft of a car in Forrestfield at lunchtime on Saturday that had a two year old boy in it.
A man believed to be in his 20s was arrested in the nearby Maida Vale area on Saturday afternoon after an 'intensive' half hour search in bush land, which involved canine units and the police helicopter.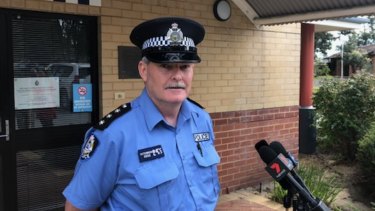 He was taken to the Midland Police Station where he will be interviewed in relation to the theft.
Police say just after 11.55am the green/grey Holden Commodore sedan (pictured below) was stolen from a home in Gala Way, Forrestfield.
At the time the vehicle was stolen, two year old Ryan was inside.
Police said he was found outside a supermarket about 10 minutes later near the corner of Edinburgh Road and Lincoln Road, Forrestfield.
They later said said the stolen vehicle arrived at the supermarket, stopped, and Ryan was 'pushed out' of one of the back doors.
The vehicle then drove off. Members of the public then went to help Ryan and called police.
Acting Inspector Greg Hutchinson said Ryan's father was standing near the vehicle at the time it was stolen but did not know how it was actually stolen.
He said Ryan had not been injured in the ordeal.
Ryan's family thanked the public and police for the quick response.
A statement released by Ryan's mother on Saturday said: "On behalf of our family we would like to thank the police, the media and the members of the community who helped share the messages about Ryan on social media.
"Particularly, we would like to thank the people who came to Ryan's assistance when he was left outside the supermarket. The quick response from everyone involved has resulted in us having Ryan back in our arms and we can't thank everyone enough."
The stolen vehicle was spotted by police driving on Gooseberry Hill Road, Gooseberry Hill on Saturday afternoon.
The vehicle, which appeared to be damaged, was abandoned on that road and the driver fled on foot.
Phil covers breaking news with a focus on court, crime and police for WAtoday.
Hamish Hastie is WAtoday's business reporter.