Five days after the family of a Perth woman found dead in Bedfordale made a public appeal for information, police have charged a 46-year-old man with her murder.
Kym Taylor's remains were found by a member of the public in bushland off Canning Dam Road in Bedfordale on Sunday, November 18.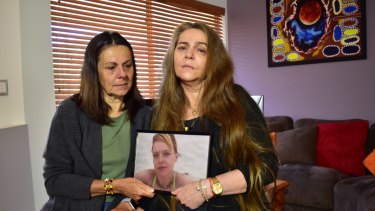 Ms Taylor, 37, lived in Hamilton Hill but was known to also live an itinerant lifestyle.
Police have now charged a man from Girrawheen, who knew her, with murder.
He was refused bail and was due to appear at the Northbridge sitting of Perth Magistrates Court on Sunday.
On Tuesday, Ms Taylor's mother Courtney Hill-Aaron and her aunt Leanne Taylor spoke to media in an effort to generate leads for police.
Ms Taylor described Kym as a beautiful and intelligent person, and remembered meeting her niece for the first time.
"I remember her laugh as a little girl," she said.
"She was a little redhead running around all over the place when we met her for the first time, when [Ms Hill-Aaron] brought her down to Esperance.
"She was just this gorgeous little baby. When they had to bring her back to Perth, it was - 'no, don't take her away!'"
Ms Hill-Aaron said her daughter was an intelligent woman.
"She did go to uni, she was studying. She got into Indigenous servicing as well — that was her passion," her mother said.
"Kym ... really wanted to make something of herself, she really tried really so hard but there were a lot of things in her way.
"She had a lot of demons, Kym did. But we know that we loved her. We still love her."
Ms Hill-Aaron said she felt "numb" since she heard the news on Sunday.
"I've not slept since the police came over ... it's just been so hard," she said.
"What I've done is, I've built up this — it's like a glass igloo, and I'm standing inside of it.
"[Kym] was loved ... she's not just some 'thing' that should have been left out there like that."
Ms Taylor last spoke to her niece via Facebook three weeks ago, when Kym contacted her asking for family photos.