Matagarup Bridge subbies to get paid despite York Civil administration
Subcontractors working on the Matagarup Bridge will continue to be paid for their work, despite contractor York Civil going into voluntary administration yesterday.
Main Roads confirmed there were currently 12 subcontractors involved in the $91.5 million bridge and they would be paid.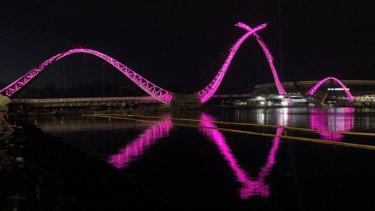 A spokesman said under the terms of the bridge alliance contract, of which Main Roads is a partner, payments to sub-contractors for valid works performed could be made by Main Roads directly.
South Australian builder York Civil was building the bridge in a joint venture partnership with Italian firm Rizzani de Eccher.
York has now appointed administrators Ferrier Hodgson to help find a buyer.
The administrator said work would continue on current projects and a creditors' meeting would happen on August 16.
Subcontractors WA has been fighting for project bank accounts to shield subbies who haven't been paid by companies who go into administration.
Chairwoman Louise Stewart said it was the first project in 18 months since the group started the fight where she was able to turn up and tell the subbies they would be paid.
The Main Roads spokesman said all works associated with the Matagarup Bridge were expected to be completed by the end of 2018 but did not elaborate how York's collapse would impact the project.
The bridge missed a number of deadlines for its public launch and suffered a two-year delay partly due to hold-ups with a Malaysia-based manufacturer contracted under the previous Liberal government.
Hamish Hastie is WAtoday's business reporter.