Wilders entitled to views - Abbott
Right-wing Dutch MP Geert Wilders is entitled to his viewpoint and has a right to free speech, senior Liberals say, as the anti-Islam campaigner hits obstacles on his speaking tour of Australia.
Mr Wilders cancelled a press conference and speaking engagement in Perth on Wednesday, after a hotel scrubbed his booking.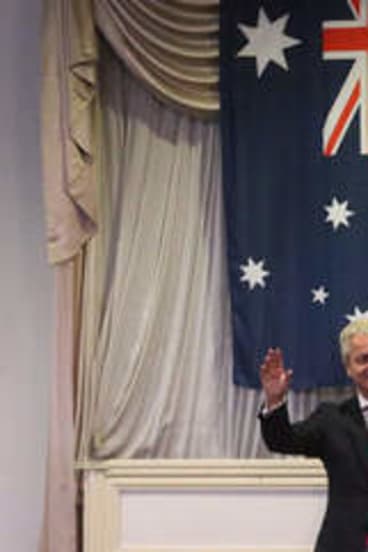 The controversial politician, who wants a ban on Islamic immigration and says the religion is incompatible with freedom, received a standing ovation on Tuesday in Melbourne, where several hundred people dodged a large group of protesters to hear the first speech in his Australian tour.
Mr Wilders' next stop, a speaking engagement in Sydney on Friday, will still go ahead, event organisers Q Society of Australia said.
In Melbourne, Mr Wilders said Europe's capitals were being swamped and changed by Islamic migrants and warned the same could happen in Australia. He also urged an end to the building of mosques across the country.
Mr Wilders told Fairfax Radio that for the past nine years he has needed 24-hour police protection wherever he has travelled and is never safe to walk the streets alone. He was dogged by people who wanted to kill him, which was hard on his family because they were not free, he said.
''I lost my own freedom. I haven't been able to walk alone on any street in the world for almost nine years,'' Mr Wilders said. ''But still, I know why I am doing it. I know that it needs to be done.''
In 2002, during the Dutch election campaign, anti-Islam politician Pym Fortuyn was assassinated by a man who said he wanted to stop him scapegoating Muslims.
Opposition Leader Tony Abbott said Mr Wilders' comments on Islam were substantially wrong but said he was entitled to his viewpoint. ''I think that the Muslims in this country see themselves, rightly, as fair dinkum, dinky-di Australians,'' the Liberal leader said. Mr Abbott said the Netherlands had few lessons to teach Australia about the integration of newcomers.
Liberal senator Cory Bernardi said Mr Wilders should be allowed to exercise his right to free speech.
The reaction to his visit showed there was a ''double standard'' in Australia when it came to expressing viewpoints, Senator Bernardi said.
It didn't matter whether people agreed with the Dutchman, but it was important that people were prepared to support free speech even if they didn't like what they heard, he said.
In a blog post on Wednesday, he pointed to reports that Jewish and gay people in the Netherlands no longer felt safe from attack by Islamic fundamentalists.
''These fundamentalists are the same people who want to kill Wilders and establish sharia law under a global Caliphate because Muhammad commanded them to back in the 7th century,'' Senator Bernardi wrote.
''And yet, it is Wilders who is characterised as an extremist.''
West Australian Premier Colin Barnett said he may have ''played some role'' in Mr Wilders being forced to cancel his speech after saying he was not welcome at government buildings.
Mr Wilders is the founder and leader of the Dutch Freedom Party, which holds 15 seats in the Dutch parliament.
A number of NSW organisations and individuals, including the Islamic Council of NSW and the Uniting Church of Australia, have come together to form an alliance opposing Mr Wilders' views.
''NSW is a multicultural and multifaith society in which racial, religious and linguistic diversity is embraced as a strength,'' the alliance said in a statement.
''We believe in freedom of speech but we think that Mr Wilders' views are fearmongering and an expression of bigotry, which have no place in Australia,'' the group's spokesman, Mr Mehmet Ozalp, said. AAP