William Pritchett: From diplomacy to the Defence Department
WILLIAM PRITCHETT Born January 1921; died January 28, 2014
Bill Pritchett was educated at Sydney Church of England Grammar (Shore) and Sydney University. He was active in the extracurricular life of the university, including a period as editor of Honi Soit. His activities are chronicled in Donald Horne's memoir of his university days. Although at times at cross-purposes at the university, Pritchett and Horne were to become life-long friends.
After service in the army during World War II, Pritchett was chosen in 1945 in the third group of diplomatic cadets under the scheme established during the tenure of H.V. Evatt as Minister for External Affairs - one of a group of nine men and one woman. (The sole woman was Coral Bell, who soon left the foreign service for academia and became an internationally recognised authority on international relations and strategic matters.) After the diplomatic cadet course - then of two years to compensate for the disruption of university life during the war - Pritchett entered the Department of External Affairs in 1947.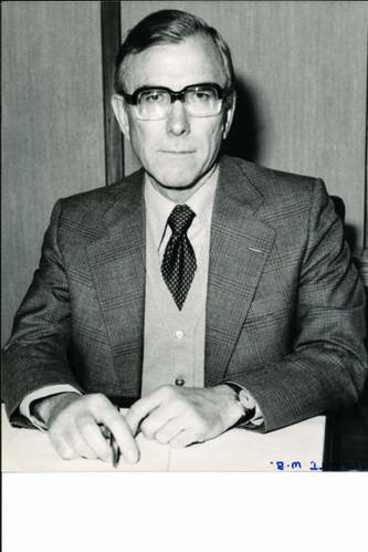 During his diplomatic career, Pritchett had a habit of being in the right place at the right time: at a time critical in the history of the country when he was posted, and which offered opportunities for creative diplomacy. The first such occasion was in Indonesia - his first overseas post - in the late 1940s during that country's revolutionary struggle for independence from the Netherlands. In the political vacuum that followed the surrender of Japan, Indonesian leaders under Sukarno had asserted their independence and resorted to military action to prevent the Dutch from reimposing their authority over the archipelago.
Pritchett had been appointed to the small Australian team on the United Nations Commission for Indonesia. That body and its predecessor, the Good Offices Committee, with Australian representation initially led by Justice Richard Kirby and later by diplomat Tom Critchley, were established to help resolve the Dutch-Indonesian dispute. Pritchett was heavily engaged in the work of UNCI, at times heading the small Australian team for extended periods when the leader was isolated in Yogyakarta - heady stuff for a young diplomat on his first post.
During his time in Indonesia, Pritchett met and was to marry Elvira (De) Voorstad, to be his partner for more than half a century.
The importance of Australia's role in UNCI may be illustrated by an exchange I had with Mohammad Roem, the leader of the Indonesian delegation to the Round Table Conference in 1949, which was to lead to Dutch recognition of Indonesian independence. I was stationed in the Hague at the time and had the job of meeting Roem on his arrival in the Netherlands. Roem's first question to me was: ''Where is Mr Critchley? He is our adviser.'' (Critchley was then on his way to Holland.)
Over a decade later, the goodwill created by Australian support for Indonesia in its struggle for independence was to stand us in good stead during the first of the crises that have periodically bedevilled our relationship with Indonesia. Sukarno's ''Crush Malaysia'' campaign, or ''Confrontation'', which included the use of military force, was designed to prevent the creation of a Malaysian Federation based on Malaya and Singapore. Despite Australia's support for Britain in its resistance to Indonesian military activity, our relationship with Indonesia, though battered, survived this challenging test. This was due in large part to the residual goodwill deriving from our earlier support for Indonesian independence - from groundwork laid by people like Pritchett; it was also coupled with some astute Australian diplomacy (described by diplomat and later historian Garry Woodard as ''best diplomatic practice''); and it reflected Indonesian acknowledgement that, as a member of the region, Australia was entitled to a viewpoint on the region's future - a right denied to the retreating colonial power Britain, whose Chancery and property in Jakarta were the object of ruinous government-inspired attacks.
The second of these timely postings was to Delhi, where Pritchett was acting high commissioner, when China in 1962 made a sharp but short-lived invasion of territory disputed with India in the Himalayas - intended to teach India a lesson not to be overactive in the disputed region. Here again, Pritchett had an opportunity for active diplomacy, establishing excellent relations with senior Indians and encouraging Canberra to give moral and material support to India, along with other Commonwealth countries. This was to cause the Indian president later to say to visiting Australian external affairs minister Garfield Barwick: ''I must say to you that it is simply grand that the Empire has rallied around.'' Shades of the Raj.
Australia's standing in India at that time reached an unprecedented high, which was unfortunately not maintained in the years ahead, due to faults on both sides. It is only in recent years, with the emergence of India as a major power, that Australia's governments have begun to give India the priority it deserves.
The third opportune posting was to Singapore in the mid-1960s. Pritchett was initially posted to Singapore as deputy high commissioner while Singapore was part of the Malaysian Federation, the high commissioner being located in Kuala Lumpur.
When Malayan leaders abruptly ejected Singapore from the federation, Pritchett became high commissioner in Singapore, whose leaders were shattered by the expulsion and badly felt the need for friends. At that time Singapore, a small island with few natural resources, was - how wrongly - considered to have an uncertain future. However, it remained important because, then and for a number of years ahead, the British commander-in-chief for the Far East was located there; and Commonwealth, including Australian, troops remained on the peninsula under the Five Power defence arrangements. Once again, Pritchett had an active diplomatic role to play, both in consolidating a relationship with Lee Kuan Yew and his government, and in consultation with the British military leadership. A basis was laid for an enduring relationship with Singapore after the British military presence was, a few years later, withdrawn from the region.
All in all, in his diplomatic career, Pritchett had made an impressive contribution to Australian foreign policy and had had much exposure to defence-related issues. The pinnacle of his public service career was, however, still to come.
It had become relatively common for former diplomatic cadets to be head-hunted for appointment to senior positions in other federal departments, but Pritchett was to become the first former cadet to head one of the three major policy departments (Prime Minister's, Treasury and Defence) when in 1979 he became secretary of the Defence Department - notoriously the most difficult to administer, given the huge size and complexity of its budget, the need to reconcile the very different civilian and military cultures, and the necessity for a good working relationship with the chief of the Defence Force in their shared responsibilities.
Pritchett had been recruited to the Defence Department in 1973 by his former boss in Foreign Affairs and now secretary of the Defence Department. Sir Arthur Tange was determined to strengthen the civilian element in the strategic policy section of the department, then headed by the wise and experienced Gordon Blakers but otherwise poorly staffed. Pritchett became deputy to Blakers, eventually following him as deputy secretary and ultimately becoming the successor to Tange himself.
It was a hard act to follow two legendary mandarins, Sir Henry Bland and Sir Arthur Tange, who had transformed the previously hide-bound and ineffective Defence Department. (Pritchett was later himself to be described as a ''legendary public servant'' by journalist Geoffrey Barker.)
In continuing the demanding standards set by Bland and Tange, Pritchett insisted on intellectual rigour and integrity on the part of his civilian subordinates, and more stringent strategic analysis on the part of the armed forces. He worked in close co-operation with successive chiefs of the Defence Force.
Resistant to both unrealistic ministerial demands and poorly justified bids for new equipment and weapons by one service or another, he insisted that decisions be made only in the national, and not sectional military, interest and that they be an essential part of an overall defence strategy.
This was, on one notable occasion, to bring him into collision with prime minister Malcolm Fraser, who was firmly set on buying from the British an aircraft carrier declared redundant. Pritchett did not consider that an aircraft carrier was a strategic requirement for the navy, and he opposed the purchase.
Some sharp exchanges occurred in the cabinet room. Unfortunately for the Prime Minister, the Falklands War intervened, and the British decided that they needed to keep the carrier; so that Pritchett's view prevailed in the end.
A further feature of Pritchett's five years as Defence secretary was that much needed progress was made in switching the emphasis of Australian defence policy from ''forward defence'' to the defence of Australia and its environs.
Parallel to the efforts of Bland, Tange and Pritchett to raise the intellectual level of strategic policy decision-making in the Defence Department and the armed forces was an effort, beginning with Bland, to improve the quality, scope and relevance of the intelligence assessments available to the government, and their contribution to policy decisions.
Pritchett was to participate in this process when given the job, before he became secretary, of preparing compromise terms of reference for the Office of National Assessments, following a bitter dispute between royal commissioner Robert Hope and Tange on the role to be accorded this new government agency. The role of ONA has continued unchanged to this day.
Pritchett retired from the public service in 1984. A cultivated intellectual, of modest demeanour, with a sharp and penetrating mind, he had served his country well, and this was recognised by being named an Officer of the Order of Australia. He lived quietly in retirement, his later years being clouded by the death in 2006 of his life-long partner, De; and his final years were rather lonely, despite the devoted care of his daughter Isabel.
He is succeeded by Mary, Isabel, Henry, Melinda and Emmanuel.