ACT politics rarely makes an appearance in this column, but this election is different. Some fundamental issues are at stake and the next government will almost certainly determine our city's future viability.
The most significant issue is, of course, light rail. And so, almost inevitably (and as a passionate advocate of the need for a proper public transport solution for this city), I'm set dead against this worthless scheme. There are so many reasons this is the wrong decision, but let's settle, instead, for an analogy.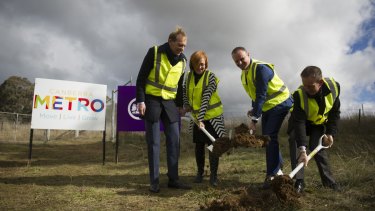 In 1988, NSW's Labor government ploughed ahead, despite numerous warnings, in its decision to build a monorail. The idea was that this could "connect" Darling Harbour to the city. It achieved exactly the opposite. Passenger numbers failed to reach half the overly optimistic predictions and services were slashed as costs increased. This further curtailed the scheme's utility. Eventually, in 2012, the state government bought the project from its private owners to demolish the track as part of building a proper transport network. Instead of becoming a solution to the harbour city's transport needs, the monorail became a roadblock standing in the way of a real solution; a line to nowhere.
Today, as the government suddenly realises what a dog it's chosen, we're being told the line from Gungahlin will be extended. Don't believe it. If the aim was really to build a working system all this would have been properly integrated right from the beginning, as part of a staged, planned process. Instead, like so much else associated with the current government, a light-bulb moment appears to be linked to nothing other than a rushed effort at belated justification. Why will light rail somehow work better than a bus service when it will cost so much more? The assertion that rail will eventually grid the city is simply rubbish. The debilitating cost of this failed experiment will guarantee that it's never extended.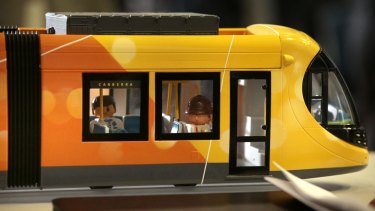 This is the far more serious problem with the proposal. The burden of persevering with this scheme risks crippling the ACT's budget as far as the eye can see, way off into the future, yet it will do nothing to sustain, let alone improve, our way of life. Far better to pay and escape disaster rather than be saddled with debt and bled dry for years into the future. The world has changed; the days of easy money are over, yet Labor's still embarked on big-spending programs without the money to fund them. It's trying to make the light-rail deal look like a fait accompli, which is why it signed off on contracts early; simply another instance of the contempt in which it holds the electorate.
This is the other issue that sticks in the craw. We seem to have the "Chicago school" operating at its worst: a model of government ripping control away from individuals and vesting it, instead, in the hands of people like the windy city's mayor, Richard M. Daley, son of mayor Richard J. Daley. Decades in power in that city led to unseemly links between developers and politicians and a warped, incestuous civic culture. It pretended to act for the people of the city but actually operated in a closed, insidious network of favours and preferment. No matter how wonderful any government, there always comes a time when change is necessary.
At least there can be no suggestion of corruption here, although the Auditor-General's report (released last week) makes sobering reading. Nevertheless, according to his parliamentary register anyway, the hapless Chief Minister Andrew Barr (on a salary of $299,000 and a cabinet minister for nearly a decade before that) owns virtually nothing apart from a jointly owned house with a mortgage. How does he manage it? Even the Greens' Shane Rattenbury has the nous to ensure he's got a couple of negatively geared flats that will profit from the light-rail scheme. Perhaps Barr's so busy spending all his time managing our money that he has no time left to manage his own.
This will also be the first election with five, re-drawn electorates with five politicians in each. The major parties just want you to put "1" next to a politician (from either Labor, Liberal or the Greens). Doing this is just another way of stripping power from voters. The real point is, however, that your vote actually becomes more important and relevant as the count continues.
The seats that will make or break government will be the final ones decided. Because of our Hare-Clarke electoral system, these are the ones that will come down to the wire in each electorate. They'll all be decided by preferences, which means if you really want your vote to count you'll keep numbering boxes until you finally get sick of it. This may happen sooner than you expect, particularly if you relate the names of the people you're being forced to vote for to the politicians they've become.
As this paper's incomparable chief Assembly reporter, Kirsten Lawson, has pointed out, at least a bigger crossbench suggests more inquiries. These, in turn, might be more likely to get to the bottom of the real issues that will determine our future. Achieving this, rather than the current system of backroom deals, would seem to be desirable.
Nicholas Stuart is an author and Canberra Times columnist. nicstuart@hotmail.com
Nic Stuart is a Canberra writer.