A character assassination is under way in Canberra right now, and it's not Tony Abbott leaking against Malcolm Turnbull. It's an architectural hit-and-run on a grand scale, happening right in front of us, yet no one seems to be stopping to help.
Driving up Flemington Road from Mitchell to Gungahlin through the new suburbs of Franklin and Harrison is horrifying. Cheap and nasty apartment and townhouse constructions litter the side of the road and extend into vast swathes of what are the ACT's new suburbs.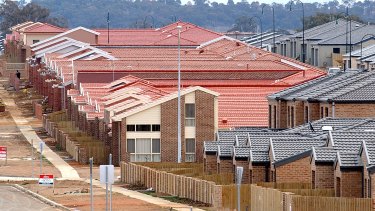 Driven by the utopian dream of light rail through the middle of it, thousands of the same, bland, uninspiring, factory-made-and-designed projects scatter the landscape in what is eye-pollution overload. As I drive back from Gungahlin on Horsepark Drive, the other side of this building nightmare, the horror continues.
I'm almost sick at what I am seeing. That's no figure of speech; I'm almost sick. I hadn't been up this way in a while and I simply cannot believe that Canberra's planning authorities have allowed it to happen. Obviously, when obtaining their town-planning qualifications, they slept through the lecture on taste.
There's no familiar Canberra red brick; no hint of the warm, architectural style that the capital is known for; nothing but white, robot-built-and-designed super constructions. It's a ghetto for middle-class, mortgaged-to-the-hilt Canberrans who've watched too many episodes of The Block. In years to come, residents will look back and ask: "Why did no one stop this?"
And while Gungahlin and its surrounding suburbs are the starkest example of this awful plague on housing, it's happening everywhere. Whereas once you could stroll through Braddon and see a mix of smart, modern, new constructions happily blending with lovely, old-Canberra styles of architecture, now it's vomit-inducing apartment blocks as far as the eye can see. It's happening in Deakin and Phillip, Bruce and Mawson, Ainslie and Aranda, and coming to a suburb near you – right next door.
Yes, I know we have a population boom and a lack of housing, and I understand the need to create new areas for people to live in. But we don't need to throw out our heritage at the same time. There must be a balance between affordable construction and some semblance of style.
Much to the chagrin of the rest of the nation, Canberrans are in fact among the most stylish, award-winning home builders in the country. Our "bush capital" tag means we've had ample land and environmental inspiration to create some truly creative and unique housing developments. But that lineage of architectural excellence is being diluted by the off-the-plan, quick-to-erect constructions that pop up almost overnight. Don't stand still for too long or someone will build a two-bedroom, combined-kitchen-dining area around you – and then charge you half a million bucks for it.
Packed together like sardines with nothing but a thin wall to separate them, it seems residents, in their quest for a slice of the great Aussie dream, are resigned to live in a city of architectural mediocrity the likes of which Sydney would be proud. For those of us who have called this beautiful town home for decades, it's like watching a loved one die a slow and painful death with no cure for what ails them. We are burying Canberra's identity and building an Ikea-inspired memorial over its grave.
Chief Minister Andrew Barr, Urban Development Minster Yvette Berry and Planning Minister Mick Gentleman should be stripped naked and made to march through Gungahlin while Walter Burley Griffin's descendents walk behind them, chanting "shame!" and tolling bells Game-of-Thrones style. I for one would take great pleasure in throwing a few rotten tomatoes.
Jorian Gardner is a commentator, journalist and activist. He rents in Hackett but is considering moving to Queanbeyan for a more pleasing landscape.