Emma Ayres' ABC webpage slugline, "Nourishing the bits of you that cereals can't", alerts listeners to her Classic FM breakfast show that it's not going to be all Beethoven and bassoons. There's a lightness of being about Ayres and her soft, low-pitched northern English voice that makes her a popular morning radio choice. Several people I know wake up with her every weekday thanks to the cunning little ABC alarm clock app. Ayres is the announcer imp who slips into one's subconscious in the borderlands of sleeping and waking.
She talks about the intimacy of radio in her new book Cadence (ABC Books), saying that, just as a musician takes people into their care for the time a piece lasts, so do radio presenters. "Presenting classical music, especially early in the morning, means that people listening to your music are vulnerable and raw," Ayres writes. "It is my beautiful … job to take their hand and care for their feelings and their memories." Imagine if Alan Jones had that attitude - if, instead of puce-faced, divisive, right-wing tirades from The Parrot we had Emma Ayres in his radio slot, popping on some Vivaldi and giving us some life-affirming chat instead. How much happier and healthier the Australian body politic would be.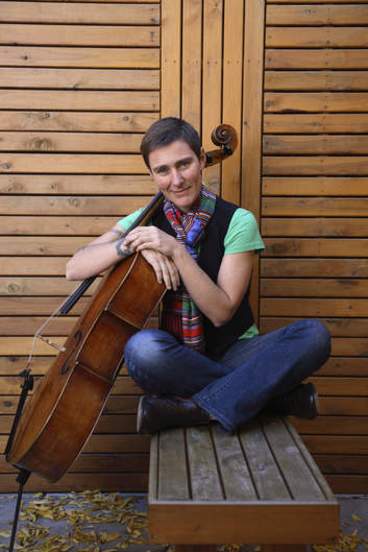 Cadence is ostensibly about two things: music and cycling. Nicely structured, each chapter title refers to specific musical keys on which subtle discussions about instruments, composers, concerts and aspects of musical theory are pegged. For me, having failed at five instruments, these sections may as well have been in classical Greek. They conveyed two things. Firstly, music is way more complex and dynamic - and therefore even harder - than I realised during my glancing juvenile collisions with the recorder, piano, viola, guitar and flute. Secondly, Ayres is a very good musician - a professional viola player of considerable accomplishment, not just your average media jobber who knows how to pronounce Shostakovich and Rachmaninoff.
But music is only one wheel of the two-wheeler bike (an aluminium-frame Cannondale named "Vita", equipped with Schwalbe Marathon Plus tyres) we spend 300-odd pages on with Ayres in Cadence. The other wheel is Ayres' life. Bad family memories churn in Emma Ayres. They are expurgated bowing back and forth across the viola in her 16 years as a professional musician, and then, when music hasn't done the job, pushing her bike pedals round and round millions of times travelling from her original family home in Shropshire to Hong Kong, where she had been working as an orchestral musician. What makes Emma ride? Bikes for her, as for many of us, mean freedom, feel like freedom, are freedom. But really it is another form of "Nourishing the bits of you that cereals can't", as her ABC webpage slugline says. Music hadn't laid the family demons to rest. Perhaps riding from Shropshire to Honkers would.
There are many ways of reading Ayres' book. One is in the tradition of epic lone, long-distance British women cyclists like Dervla Murphy and Anne Mustoe, both of whom have written some wonderful books. Another is in the long line of androgynous English women who travelled and lived abroad passing as men. Ayres says in Cadence she named her bike "Vita" because of its "unusual shape and very, very strong character". As we read of Ayres' joy travelling in Pakistan, in particular, where she was perceived as a man with the Pakistani name "Emmett", English poet and gardener Vita Sackville-West's life as "Julian" with her girlfriend Violet Trefusis in post-war France comes to mind. "I shall never forget the evenings when we walked back slowly to our flat through the streets of Paris," Sackville-West later wrote. "I, personally, had never felt so free in my life."
Sackville-West was the inspiration for Virginia Woolf's fictional biography Orlando, with a protagonist who crosses back and forth between centuries and genders. If you Google the free Project Gutenberg edition of Orlando, nothing comes up for "bicycle" or "bike", but if you Google "Emma" it takes you to Woolf's lone use of the word "dilemma" in a passage where she declares, "Different though the sexes are, they intermix''. It's good to read Cadence and Orlando together, not least so as not to get cross at Ayres' seeming complacency about the position of women in places like Pakistan. Had she been visible as "Emma" instead of "Emmett", how drastically and dangerously different her travels may have been.