The vicious bashing of a man about 15 years ago gave me a deeper understanding of the impact the media can have on people who are homeless. I was supporting Max, 38, who was sleeping rough in a local park. He was experiencing mental ill-health, had no income and was extremely disadvantaged. One morning I found Max huddled underneath a tree: he had a black eye, his body was covered in bruises. He was in great distress.
A day earlier a large photo of Max had appeared in a newspaper, linked to a story about homelessness, poverty and begging in the city. The photographer had snapped Max standing on the footpath, presumably because he was a good pictorial example of someone looking down and out.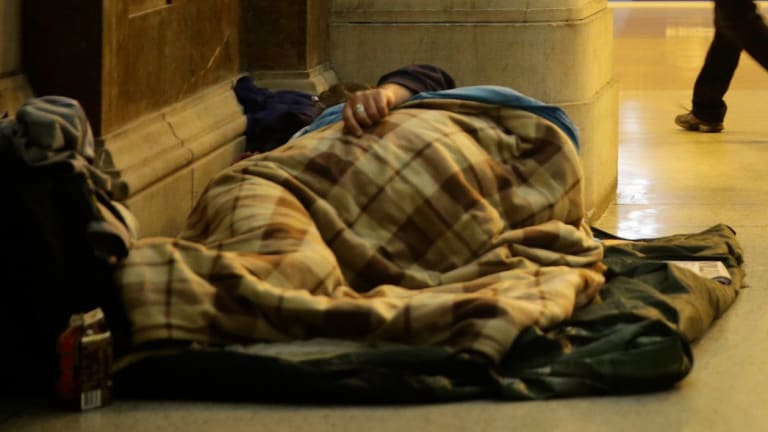 At the time some influential stakeholders, including residents, police and talk-back radio hosts, were having one of their regular bellicose moments about poverty in the CBD. There was a view that the presence of homelessness and beggars on our streets was giving our most liveable city a bad name.
Three young men had spotted Max in town and bashed him as they yelled, "You and all the homeless scum are f---ing up our city". Having been prominently on display in a paper, Max became an easy target, a symbol of the men's indiscriminate rage.
The use of photos of disadvantaged people to illustrate stories about poverty can risk entering the world of poverty porn, where the most visually miserable image is used to create an emotional reaction. Reactions are not always positive, as Max's example illustrates.
This issue highlights a tension. The media need photos and first-person accounts to help tell stories, but for many of our clients, the thought of being exposed publicly in photos or in TV interviews feels like an unacceptable invasion of privacy.
This tension may also apply to organisations and their fundraising strategies. It's important we share our work with the community but in doing this we sometimes ask people to reveal very private and painful stories – events most of us would prefer to keep to ourselves.
Over the years this tension has played out when there have been stories we've tried to tell about homelessness that did not get any coverage because no one wanted to be photographed or publicly share their traumatic story. Following a simple principle – that if there are no pictures, it didn't happen – the media moved on.
Journalists understandably want images and interviews to bring energy and emotion to their coverage. This is not always helpful to the person being interviewed or photographed.
Peter, 34, was interviewed by a local paper some years back and immediately regretted it. He had been sleeping rough for five years when a journalist dropped by his camp one afternoon for an interview. "What's it like to sleep rough?" he asked.
Peter said he had to live with the fact that people from his past would now know he was destitute. The article reached Peter's father, who discovered his son was homeless. He tracked Peter down to tell him he was a hopeless failure and disappointment. Understandably distressed, Peter felt his privacy had been violated.
Personally speaking, over the years writing newspaper stories I have interviewed people when I probably shouldn't have and I have written stories that on reflection I might have avoided. I've almost never used photos and have always changed details in order to protect people's identity. Sometimes, however, the situation is so specific it's almost impossible to disguise.
Occasionally we meet people who are all too eager to share their stories. This may be because they are unwell at the time, feel disinhibited and are unable to make reasonable decisions about what they disclose. Surely it's important to protect them from being exploited?
Kaye, who appeared on an annual report cover for us some years ago, told me that she hadn't realised the impact this would have on her. The experience triggered an episode of mental ill-health. It wasn't until she saw her own face staring out from the cover of multiple copies of the report that it hit her. Kaye became anxious and paranoid. She felt trapped. In her mind she was now immortalised as the client of a welfare service.
Sometimes people change their minds about going public. Several times I have interviewed people who have later said they would prefer not to share their story with the public. Fair enough. But once something is in print or broadcast in a news bulletin it can't be taken back.
Experiencing poverty and homelessness is not like being a contestant on reality TV, where tearful self-disclosures marinade the narrative. When a person is homeless they are generally dealing with the most challenging time in their life. They may be struggling with the impact of trauma and abuse, experiencing mental illness and poor physical health, along with the ongoing stress of not knowing where they will sleep tonight. Is it fair to ask a person in this situation to tell all and pose for a snap?
It's important to question how images of disadvantaged people are used in the media. Our continual need to hear and see distressed people in order to mount the argument that homelessness or poverty is a bad thing needs to be better understood.
This is a subject for a wider conversation which might also question the use of wretched images welfare organisations sometimes employ to publicise their work. In attempting to draw attention to important social issues, are we also exploiting people?
Chris Middendorp manages client services at the Sacred Heart Mission in St Kilda.