The Vatican is surely ablaze with excitement and expectation. The imminent influx of holy men in a sea of flowing crimson cassocks and skull-caps makes for a powerful picture.
This papal convocation of cardinals will soon meet and greet, grace its way into the Sistine Chapel, factionalise, debate and make its decision. Then, with that puff of white smoke, the new pontiff will be known.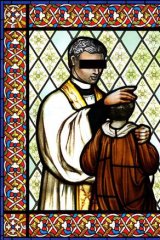 One topic that is on everyone's lips with this atypical and rather curious resignation of the Pope is whether or not the sexual abuse crisis within the church is related to his decision to resign and whether the newly elected leader will make any difference and deliver some justice to victims.
There will certainly be millions of Catholics wanting changes in the church, changes that are many and challenging for the conservative, misogynistic and headstrong Catholic hierarchy pursuing centuries-old male doctrines. Much of the world's Catholics, not least children, women and gays, are marginalised and muzzled and treated with disdain and contempt by the church.
This includes the many thousands of children and vulnerable adults who have been raped, sexually assaulted, tortured and brutally physically assaulted by Catholic clergy around the world. These people and their families continue to suffer terribly with suicide, premature deaths and troubled and difficult lives.
Pope Benedict XVI and his church have not only not delivered justice to these victims, they have dealt out more abuse and trauma in their attempts to further silence them and hide the truth.
Benedict, then Cardinal Joseph Ratzinger, was appointed head of the Congregation of the Doctrine of the Faith in 1981. This powerful position charged the cardinal with upholding church doctrine and, later, with receiving and investigating complaints of clergy sex abuse. He was in this position until he was elected Pope in April 2005. During this time, Australia's Cardinal George Pell served as a member of the congregation, where he was one of Ratzinger's understudies.
This outgoing Pope has personal knowledge, most of it documented, of possibly thousands of cases of clergy sex and other crimes internationally.
There are allegations that Pope Benedict has covered up sex crimes and protected and embraced his clergy offenders.
But such concealment, or silence, has been church law for hundreds of years, any breach of which threatens excommunication.
In this sense, maintaining silence about child rape serves to prop up the church and inoculate its clerics from secular justice and punishment. At the same time, this worldwide and institutional silence has enabled, if not encouraged, the rapists to continue their evil.
Some argue that Benedict's apologies to victims and survivors in recent years have carried great sacred weight. The evidence, though, suggests that these apologies have been inconsequential. The steadfast resistance of the church to support victims, to fess up, to open up the archives and be accountable, is in stark contrast to a church that is contrite.
So should we expect the successor pope to match Benedict's words of apology with action?
As things stand, this is highly unlikely. The Catholic Church, as well as being secretive, is also slow moving, self-serving and legalistic. It is not in the church's interests, in terms of its global power base and its assets worth billions of dollars, to come clean and to provide justice to victims.
Regardless of who the next pope will be, it is for governments the world over to excise themselves politically and economically from the burly hip of the church. Governments must stand up to the church, just as the Australian government has done with its royal commission, and breathe new life into the requisite secular laws that will help bring about criminal prosecutions and accountability of the guilty ones.
Governments also need to reform the many laws that protect the church from suit, that hide its black money and protect this multibillion-dollar international business. It is with our secular laws that we must seek justice for victims.
Governments must display courage and conviction and draw an authentic and effective partition between the state and the church. Canon law is designed to protect the church and the holy men. Secular law, inter alia, is designed to protect the victims and children.
In the end, if there is to be government action or if the church is to reform, we are blinded if we believe it will be initiated from within those two organisations. It will have been the lionhearted and valiant survivors and their families who forced such change.
They are the ones who have spoken out. They are the ones, through tragedy and loss and against all odds, who have the displayed the necessary integrity and fortitude to bring about change.
They are everything the new pope should be.
Judy Courtin is a lawyer and PhD student at Monash University's faculty of law.