Tony Abbott once said that his preference for Queen's representative in Australia would be for former judges or military men. He then proceeded to replace Quentin Bryce as governor-general with Peter Cosgrove, former chief of the Defence Force.
He must now be very pleased with the line-up of governors in Australia. The decision by the Baird government in NSW to replace Marie Bashir with another Defence Force chief, General David Hurley, means that from next month all of the six governors will either be former judges or military men. Next month Penny Wensley, the Queensland Governor, will be replaced by Paul de Jersey, the former Queensland chief justice.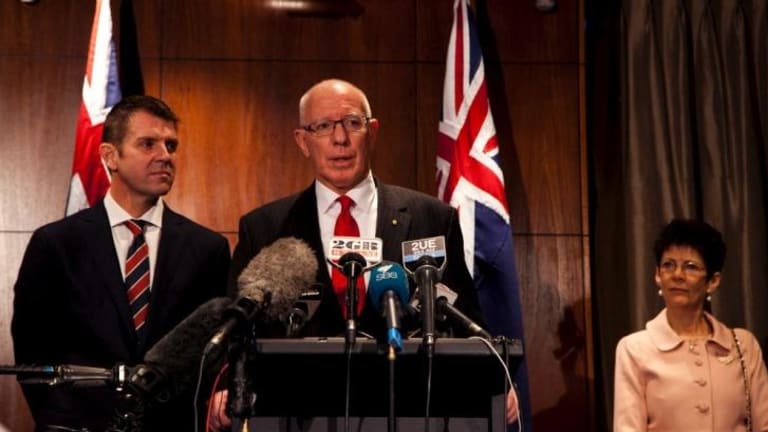 Two of the governors will be former military men, the other being Rear Admiral Kevin Scarce in South Australia. Four will be former judges, the other three being Malcolm McCusker, in Western Australia; Peter Underwood, in Tasmania, and Alex Chernov, in Victoria.
These two professions have always been prominent among governors. For instance, five of the past 10 governors of Western Australia have come from the military. Recent governors-general have included former judges such as William Deane and another general, Michael Jeffrey, who had also been governor of Western Australia.
But in recent times governors have come from a wider range of backgrounds. Among other things Bashir was a clinical professor of psychiatry at Sydney University, while Wensley was formerly a diplomat. Bryce, who preceded Wensley as governor of Queensland came from a university and social movement background. Other recent governors have included the athletes, John Landy in Victoria and Marjorie Jackson in South Australia. Some others have come from university and church backgrounds.
The increased diversity in the backgrounds of governors was an attempt to make the holders of the office more representative of the wider community. Australian governments weren't the first to do so. Canada and New Zealand led the way. Diversity was associated with rescuing an office that was seen to have become stuffy and out of touch. Making the office-holders more diverse was an attempt to democratise the office while retaining it in a traditional form.
One of the drivers of the changes was the desire to increase the number of women office-holders. Australia lagged but was starting to catch up. However, shortly Australia will have returned to a situation of having no women among the seven vice-regal office-holders. Bryce, Bashir and Wensley will have departed in quick succession to be replaced by men.
Another driver was multiculturalism and a number of recent governors, such as Victoria's David de Kretser, have been of non-Anglo-Celtic background. Chernov, the current Victorian Governor, is of Russian heritage, which shows that increased diversity can be achieved within the established professions. But the choices are more limited.
One of the characteristics of the higher reaches of the law and the military is that they are still male professions. This applies especially to the military, therefore one consequence of appointing governors from traditional backgrounds is that they are more likely to be men.
It may be too soon to know whether this unfortunate trend is just cyclical or a permanent return to the old days. Why is this happening?
It should be noted that filling positions such as this is a matter of both supply and demand. It may not be a question of the preference of governments but the availability of the preferred choices. Maybe judges and the military are more available and willing to take on the job. We don't know how often people decline an offer. Nevertheless that can't explain what looks like an overwhelming return to the same old types of choices.
It is certainly not happening because the newer types of governors have been failures. Bashir, for instance, has been an outstanding success during her 13-year tenure. Some governors are more popular than others, including military and judges, but there is no pattern.
Perhaps it has been a lack of imagination, an unwillingness to look beyond the established, obvious choices. If so, that is a problem not just for government ministers but for those who advise them.
It is hard to escape the impression that this pattern is part of a general turn back towards conservatism, both in politics and in society.
Political conservatism is represented in Australia by the election of Coalition governments. It has been the governments of Mike Baird, Tony Abbott and Campbell Newman that have made these recent appointments. It is not a coincidence that they have happened at a time when female leaders of government, such as Anna Bligh and Julia Gillard, have also been banished from their positions. It means that the gendered landscape of leadership in Australia has changed quite dramatically in the past few years. Women are very much on the outer.
But governments do reflect public opinion at least indirectly and the new pattern seems consistent with a growing public conservatism about values such as diversity and inclusiveness; seeing them as not particularly important any more. If so, this is disappointing.
Military men and male judges individually can make fine, and not always conservative, governors and governors-general. But we should look beyond individuals to the wider pattern, which reveals a direction that is very old-fashioned.
We need a lively public debate, not just the betting odds on individual chances of appointment, about what values Australia wants represented in these positions. We also need to hold governments accountable for the choices they make and to urge members of those governments collectively to show greater imagination and inclusiveness.
John Warhurst is an emeritus professor of political science at the Australian National University

John Warhurst is an emeritus professor of political science at the Australian National University.
Morning & Afternoon Newsletter
Delivered Mon–Fri.