Who will want to live in an apartment overlooking Northbourne Avenue over the next 20 years?
I well remember driving along Northbourne Avenue with my family in the raging heat of January in the late 1960s and being blown into the Rex Hotel by the hot northerly winds. Then, there was little in the way of trees, but it wasn't a wind tunnel of tall buildings either.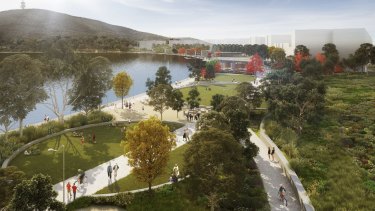 When the trees are cut down, their thick canopy no longer a shady wind break, and the avenue becomes a construction site, there will be nothing to absorb the pollution and noise from six lanes of traffic, a tram and its visual pollution of overhead wires and, as every building less than 10 stories high will be pulled down to construct taller buildings, a construction site it will remain, even after the tram glides by.
Along Mugga Way during the past 10 years I have watched the replacement Eucalyptus mannifera still struggling to grow past the spindly stage – and Mugga Way is a nature haven by comparison with the tall building fate of Northbourne Avenue.
What is the honest assessment of when a good canopy can be expected from trees growing under these conditions?
Canberrans are being sales talked about 'villages' on Northbourne Avenue – presumably at 'gateway' intersections like Northbourne, Wakefield and Macarthur where 17-storey apartment buildings are planned. We all have romantic ideas of community and village life and that is not it.
Why do our politicians and planners think it necessary to build taller to create immediate population density right next to transport corridors. Why not walk a block or two from a more evenly spread population density in low rise apartment buildings? Then we could have our 'villages'.
Who wants to go to Gungahlin, a metaphor for a short trip to Liverpool in Sydney's West?
Gungahlin is not a 'work of the planners 'art'; there is no three dimensional spatial planning there! Again at the other end of the line we are being sales-talked about a plaza between the Sydney and Melbourne buildings.
I haven't heard of a proposal to put six lanes of traffic underground. If six lanes of cars were 'taken out' between City Hill and Alinga Street, a beautiful paved plaza could be created with water fountains and copses of trees which permit the tram to glide between them. Some alfresco dining could be very nice there.
Wake up Canberrans! The City to the Lake is a marketing ploy.
The city is located around the Canberra Centre and Garema Place – very far from and out of sight of the lake. This is the result of decisions taken by government planners in the 1920s and since.
City Hill is the symbolic centre of self-government in the ACT. It, sadly, is being sold off to developers as 'concrete candles on a concrete cake'.
However if this measure is stopped, the city could build on what is already there – the Supreme Court, Family Court, Civic Police, and more civic and cultural buildings with the magnificent opportunity of building around Vernon Circle – or Circus as it has been called in great examples in Britain.
This is a spatial planning form which should not be denied by unskilled planners.
Canberra was conceived as a beautiful city; a work of civic pride, art and culture which should be owned by the whole world. It has been somewhat diminished as a government town with its functions planned by government, but we should safeguard what still makes it exceptional and not let it slide into hyped-up banality.
Rosemarie Willett is an architect and member of the Walter Burley Griffin Society.