Canberra at the moment has the highest per capita car use of any city in Australia – not the kind of leadership role we want. Building Canberra's light rail will help transform the national capital for a more sustainable future. Investing in smart infrastructure to better connect Civic to the newest town centre signals a refreshing approach to planning rather than just providing for yet more cars. It revives the vision of Walter Burley Griffin.
Retrofitting a car-oriented city with a light rail network, initially connecting Civic to Gungahlin, combined with well-designed and located transit-oriented development, will bring a wide range of benefits for Canberra communities. These include economic, health, social and environmental benefits, which must be included in any triple bottom line cost benefit analysis.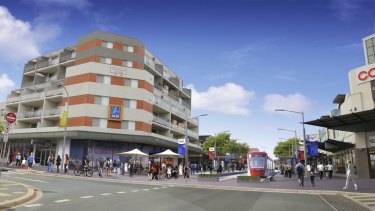 Rail is booming across the world as cities everywhere are finding that car and bus access is not working well for their congested urban economies. In China, 82 cities are building metros and in India there are 16. Light rail exists or is being built in 584 cities worldwide, including 118 cities with populations under 150,000. Places such as the Gold Coast are finding that light rail is not only extremely popular but also frees up space for building walkable and lively centres of activity that then attract investment.
Canberra is planning to regenerate its city in this way, but assessment criteria that are confined to transport benefits and costs, ignoring the wider benefits to land-use planning, are clearly inadequate and misleading. Further, increases in land value associated with modern light rail can – and should - be used to help fund the light rail; such funding cannot be generated by bus rapid transit.
The benefits of a mature light rail system to the community's health are many. First up, light rail offers an alternative to reliance on cars, thereby increasing levels of daily physical activity, reducing congestion and stress on the roads, curbing vehicle-exhaust air pollution, and – when coordinated with upgraded bicycle paths – reducing cyclist and pedestrian injuries.
More generally, increased use of public facilities helps foster greater community cohesion and social contact – all beneficial to psychological health. Enhanced public transport helps maintain the mobility of the elderly, facilitates tourism and provides employment opportunities. Workplace productivity has been estimated to improve by around 7 per cent due to the increased health and alertness of more physically active workers.
The Canberra light rail system will also deliver major climate benefits through significant reductions in greenhouse gas emissions. Running the system on electricity generated largely from renewable sources will give Canberrans a double bang-for-the-buck in terms of climate action. According to the latest IPCC report, a light-rail car powered by low-carbon energy sources will generate, on a passenger-kilometre basis, only 20 per cent of the emissions of a bus, 4 per cent of a mid-sized car and 2.5 per cent of an SUV.
By triggering redevelopment along the transit corridor and at the major stations, light rail can indirectly drive even further emission reductions if the associated infrastructure achieves high energy efficiency standards.
Improving accessibility brings significant social benefits and is core to a more liveable and equitable city. A light rail system as part of an integrated transport system (buses, cycling and walking) will go a long way towards meeting the needs of young and old. Reducing journey-to-work times through the location of employment in town centres is also required to complement the rail network. Investing in public places is the other essential ingredient. In other words, good strategic planning, coupled with transit oriented urban design, should underpin smart infrastructure investment to fully gain the benefits.
World leaders are developing UN sustainable development goals to be launched in 2015. Canberra, as the national capital, now has the opportunity to make a step toward change for a more sustainable future with smart infrastructure, renewable energy, urban design and a quality public realm. Investing in light rail is a transformative and timely intervention for our future – and a key feature of a more diverse, vibrant and resilient city.
Professor Barbara Norman, foundation chairwoman urban and regional planning, University of Canberra; Professor Tony McMichael, professor emeritus of population health, ANU; Professor Peter Newman, distinguished professor of sustainability, Curtin University; and Professor Will Steffen, adviser to the multi-party committee on climate change (2011-12) ANU.