According to Canberra CBD Limited, Civic's landlords and business-owners are doing it tough. Rates have become "excruciating", the vacancy rates for commercial offices and street-level retail space of 15 per cent are among the worst of any Australian capital city, land values are falling, and many of area's service alleys are littered with graffiti and garbage. The organisation charged with promoting the city centre says shoppers are being deterred by street vendors, charity stalls and beggars, and that unless the government intervenes, the area's decline will continue.
In a submission to the Barr government's 2016-17 budget, CCBD has called for, among other things, $2.2 million to be earmarked for repairs and upgrades to the Sydney and Melbourne buildings and surrounds, more money for city maintenance, a greater police presence in Civic, and improved parking to enable easier commuter and non-commuter access. And it wants the government to hasten Civic's renewal by putting the planned West Basin redevelopment on hold and delaying the roll-out of light rail – at least until city real estate values improve. This way, it says, the government will get a better return on the sale of government real estate and buildings.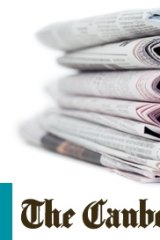 The championing of Civic as Canberra's premier retail and commercial district is CCBD's entire reason for being, so that a submission of the sort dropped on Treasurer and Chief Minister Andrew Barr's desk is unsurprising. Nevertheless, elements of it, particularly those regarding light rail and West Basin and the call for a reduction in lease variation charges, are audacious, even brazen. Civic's landlords and business proprietors are not the only ones feeling the pinch economically in and around Canberra. Nor is Civic the only town centre or retail hub in need of a lick of paint and new park benches. Nevertheless, CCBD is of the view that the "pre-eminence" of Civic demands that its revitalisation be accorded top priority, and that its members be accorded incentives not available to others.
First-time visitors, particularly those who wander away from the bright lights of the Canberra Centre, would be excused for thinking that Civic is more toy-town than bustling CBD – and a faded toy town at that. Garema Place, the bus interchange and the aforesaid Sydney and Melbourne buildings look run-down, and many of the office buildings and retail spaces elsewhere in the vicinity have aged to the point of being classified as C-class accommodation only.
The renewal of Civic that might otherwise have occurred in the normal course of events has been partly derailed by the decentralising aspects of the NCDC's Y-plan and by poor planning decisions – the suffocating expansion of the Canberra Centre being the most prominent. Canberra airport's transformation into a defacto town centre has also sucked money and investor interest out of Civic.
Civic is first among equals, and merits the planning pre-eminence that it has been given over the town centres. But grand plans will not of themselves transform an ageing precinct back into a thriving city centre. And the question (dear to the hearts of CCBD) of how it might be funded is similarly problematic.
The government would argue that its West Basin, light rail and public housing initiatives will act as catalysts for Civic's renewal by luring more people to live and work there. It would contend too, that staying any of those projects would delay Civic's over-due renaissance.
If CCBD's argument about maximising land values has some validity, its proposal that government wear a share of the costs of renewal either directly or indirectly is less compelling. While construction activity is undoubtedly an important economic driver in the ACT, the Barr government is in no financial position to be agreeing to socialise some of those costs (by, for example, agreeing to reduce lease variation charges) when the opportunities for private sector profit-taking (by, for example, readapting older buildings as apartments or small business hubs) are so clear and obvious.
It's appropriate the government shoulder most of the responsibility for "big picture" planning issues and for infrastructure provision in Civic. It also has a duty to provide modern paving, lighting, and street furniture – and to ensure that parks are well maintained and that rubbish and graffiti are removed promptly and efficiently. Beyond that, however, Civic's renewal must be driven by business.