Smoky Sydney skies this week are a reminder of the cost air pollution is having on our community. While toxic emissions from coal-fired power stations go into the air we breathe, they also fly largely under the radar.
We assume the regulators – the EPAs and state environment agencies – wouldn't allow pollution at levels that would harm us. Maybe we also assume the power station owners themselves – a mix of huge multinational corporations, state-owned entities and household-name Australian companies – would not emit at levels that would harm their workers and the surrounding communities.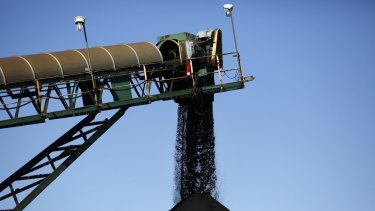 A report released this week by Environmental Justice Australia demonstrates otherwise. Australia has 17 commercially operating coal-fired power stations, located in NSW, Queensland, Victoria and Western Australia.
Australia's fleet of power stations is among the oldest and most inefficient in the world, with 89 per cent of our power stations classed as "subcritical" – the oldest type. Half of Australia's power stations are at least 30 years old. The oldest, Liddell in NSW, is 45-years-old. These power stations release more than a million tonnes of toxic pollution into the air each year.
A conservative estimate puts the health costs from power station emission at $2.6 billion a year. Toxic pollution travels great distances, so the pollution from Australia's power stations is breathed in by millions of Australians, particularly those in Sydney who end up with a large chunk of the Hunter Valley's pollution. Much of the sulphur dioxide and fine particle pollution in Sydney's air comes from coal-fired power stations in the Hunter Valley and the central coast.
Power stations are the largest source of sulfur dioxide (SO₂), oxides of nitrogen (NOx) and fine particulate matter (PM2.5) in Australia – three toxic pollutants that cause death and disease in humans and harm the environment. Most people I talk to are extremely surprised when they hear the emissions limits imposed on Australian power stations are, for the most part, far less stringent than those in the United States, the European Union and China.
The most shocking we found was mercury limits for some NSW power stations are 666 times higher than those in the US. And that's just the tip of the iceberg. Because our emissions limits are so lax, power stations have not had to install pollution reduction technologies that are commonly used overseas to reduce SO₂ and NOx pollution.
As a result, communities are exposed to excessive and preventable levels of toxic pollutants that cause and make worse a range of health impacts, such as lung cancer, heart attack, stroke, asthma and respiratory disease.
Building new power stations is not the answer to Australia's energy issues – or to our toxic pollution woes.
"Ultra-super critical" power stations may boast newer technology than the existing old facilities, but they would barely reduce the level of toxic emissions and would still pour out more than a million tonnes of toxic pollution into our air, water and land.
Our research shows the current fleet of power stations should be regulated much more strictly, with stricter emissions standards applied, meaning power stations would have to install modern pollution reduction technologies and improve their operating practices. Strong regulation is critical to reducing the toxic burden power station pollution places on the community.
Communities, especially communities living in the shadow of power stations, have little control over the air they breathe. They rely on strong regulation to protect their health.
The International Energy Agency recently noted that in those countries where air pollution is being controlled, it is primarily because of strong government regulation.
There is no "safe" level of air pollution – health impacts are found even at low levels of pollution.
Ultimately the only way to avoid death and disease from power station pollution is to move to renewable energy generation, which produces no toxic pollution.
Even the highly conservative International Energy Agency notes in its recent report on energy and air pollution, "Policies and measures that lead to an avoidance of air pollution emissions tend to be associated with the broader transformation of the energy sector into one that is more efficient and less reliant on fossil fuels: over the longer term, the simplest way to tackle air pollution is not to produce the pollutants in the first place."
Nicola Rivers is a lawyer and director of advocacy and research at Environmental Justice Australia.