Last week more than 40 parties lodged their Senate ''group voting tickets'' with the Australian Electoral Commission. Like native bird populations during a drought, these parties disappear in between elections only to magically appear at an election to funnel votes to the party lucky enough to benefit from back-room preference deals.
Now, if you would please tell me where your Senate above-the-line preferences go, I will be far more comfortable. But, be honest - you haven't a clue.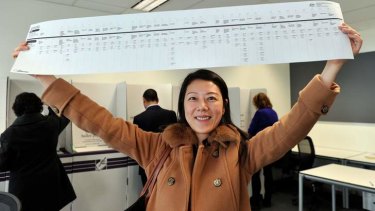 Senate ballot papers are more than a metre long in some states. A record number of voters are set to put their vote ''above the line'', and then they won't have preferences; other parties will determine them for them.
This is where the fun starts. Let's start with Clive Palmer. Clive has billions of dollars worth of coal assets and a nickel refinery near Townsville. It is perfectly logical then that he has preferenced the Greens; a party that wants to phase out coalmining and shut down Clive's nickel refinery.
Indeed, Clive's preferences are a wild ride. In Queensland, if you vote for Clive Palmer, your votes go to Family First, then to the Socialists, then to the Greens, Fishing and Lifestyle, Katter, the LNP, One Nation, Democrats and finally to the Australian Christians, presumably to ask forgiveness.
Who knew Clive had such a fondness for unreconstructed socialists? They are his second preference. He wants to be PM; perhaps he will be the Hugo Chavez of the South Seas. It is not just Queensland though. Clive is preferencing the Greens ahead of the major parties, and ahead of many minor parties, in all states. What a paradox? Clive's entry may protect the balance of power of the Greens, perhaps one billionaire the Greens will learn to love.
The Katter party, which ostensibly is opposed to everything Green, is preferencing the Greens ahead of the Liberals in the ACT, and ahead of Nick Xenophon in South Australia. Bob Katter may be instrumental in helping the Greens keep the balance of power by helping a Green senator to be elected in the ACT.
Bob has also done a deal with the Labor Party in Queensland. Bob represents a conservative electorate where more than 60 per cent of voters preferred the LNP to Labor at the last election. Bob has been preparing the ground. He needs Labor's preferences, and he needs the money of the trade unions. He has been voting accordingly.
This year Bob voted more with Labor in Parliament than with the Coalition. He supported right of union entry laws and the abolition of the Australian Building and Construction Commission, and opposed attempts to impose the same fines and penalties on union officials that are imposed on company directors who do the wrong thing. He failed to turn up to a vote of no confidence in the government.
Bob is now a member of the Green-Labor-Independent government, and Clive has lodged his application. The rainbow coalition continues through the back-room deals of preferences, against the interests of the people they represent.
Haven't we had enough of this? The past three years show what a disaster it can be when minor parties and independents run things. Minority government is an experiment that has failed, but it will continue in a different form if people go shopping in the Senate. And, the Senate ballot paper does look like a shopping list. People like to go shopping. They like fishing, so they vote for the fishing party. Their garden is green, and they like their garden, so they vote Green.
The problem is that once you number ''1'' above the line, what happens next remains a mystery to most. That vote for Clive Palmer may elect a Green and a vote for Bob Katter may elect Labor.
This is not democracy, it is the selection of a parliament by deals, not by votes.
Don Chipp once said the Senate was there to ''keep the bastards honest''. I think it is a little simpler this time; we just need to know which bastard their bastard is passing your vote to.
Barnaby Joyce is the opposition spokesman for regional development, local government and water.