When Parliament opens on Tuesday for the 45th time in Australia's post-colonisation history, it will begin with the now customary Welcome to Country by the local Aboriginal people on whose land Parliament House sits.
It is an important acknowledgement by the Parliament that this land, like all land and waters in Australia, is Aboriginal or Torres Strait Islander Peoples' land.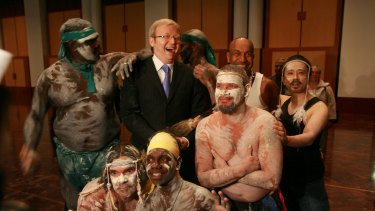 But this welcome must not mask the fact that we have a long way to go when it comes to establishing a proper relationship between government and Aboriginal and Torres Strait Islander peoples.
Today we see Aboriginal and Torres Strait Islander affairs in a continuing state of crisis. After countless royal commissions and inquiries, we know the statistics and the complexity of the issues. But without true partnership and engagement, nothing will change.
This year is the 25th anniversary of the Royal Commission on Aboriginal Deaths in Custody and the 25th anniversary of the Reconciliation process, itself an implementation of one of the commission's 339 recommendations. According to recommendation 62 of the Royal Commission on Aboriginal Deaths in Custody, 25 years ago there was an "'urgent need for governments and Aboriginal [and Torres Strait Islander] organisations to negotiate together to devise strategies designed to reduce the rate at which Aboriginal juveniles are involved in the welfare and criminal justice systems".
However, we see ourselves at the beginning of yet another royal commission (this time into the child protection and juvenile justice systems in the Northern Territory), which would have been unnecessary if this recommendation had been heeded.
We are also in the midst of yet another restarting of the constitutional recognition process, a key element of the "unfinished business" of reconciliation.
We appear to be trapped in a perpetual time-loop, unable, or perhaps unwilling as a nation, to deal with the fundamental issues at the heart of our relationships. Reports are developed and launched, often with great promise and intent, only to be lost to a culture of political and bureaucratic selective memory.
But we who stand up for Our Peoples every day, we don't forget. That is why on Tuesday, before the official Welcome to Country, representatives of Aboriginal and Torres Strait Islander organisations will attend a Sea Of Hands installation with a simple message: "PM: Meet with First Peoples."
We want Malcolm Turnbull to commit to joining our National First Peoples Summit, to be held within 100 days of Parliament's opening, because it is time for serious talking. It is time to reset the relationship on equal terms and discuss closing the gap and addressing the unfinished business. We have a plan, released during the election campaign and called the Redfern Statement, which we believe could be the beginning of a more positive relationship. Our plan addresses the need for better engagement, improved ways of resourcing Aboriginal and Torres Strait Islander organisations to close the gap, a new Department for Aboriginal and Torres Strait Islander Affairs, led by Our Peoples. We have put forth our ideas and want to advance the reconciliation process and make it a means of nation building.
We've had enough of policy confusion and amnesia. We know what to do, we just need the support of government and the nation's Parliament. Our proud peoples have been around for millennia. We know our land, we know our people. In the face of apparent hopelessness, as we think of Don Dale and youth detention centres around the country, as we think of the gap that seems to never close, let's be innovative and through action turn hope into achievement.
Let's begin by closing one easy gap – please meet with us, Mr Turnbull; now is the time for a serious talk.
Dr Jackie Huggins and Rod Little are co-chairs of the National Congress of Australia's First Peoples.