Life can be complicated and our decisions can lead to a range of consequences. It would have been hard to predict that burning fossil fuels would destabilise the climate; or that the freedom offered by the motor car could lead to our dependency upon it, resulting in unsustainable sprawl, social and economic isolation.
Infrastructure projects are essential to our city's future prosperity. They are large and expensive. It is important that we make well-informed decisions with the best available knowledge. Past experiences tell us that transport decisions have the capacity to change the way a city grows, not just how people move around it. It is well acknowledged that transport plays an influential role in shaping the development of its surrounds. Transport and land use are inextricably linked.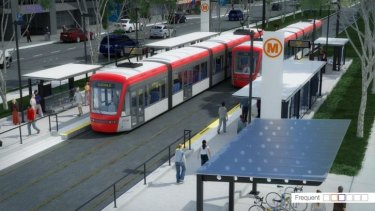 We know that cities that focus on road infrastructure are generally more dependent on cars with resulting economic and environmental issues. Cities that prioritise public transport have strong economic performance with sustainable transport and urban development. The lesson to learn from these experiences is that good public transport infrastructure is essential for the sustainable growth of a city. It is no coincidence that eight out of 10 cities listed on the 2012 Economic Intelligence Unit's global liveability index have a light rail system.
This year Canberra has been recognised as one of the world's most liveable cities by the OECD. This is not something that happens overnight. In a city built upon a grand vision, today's residents are reaping the rewards of substantial investments by those who went before us. To ensure this excellent quality of life into the future, we must continue thinking about the long-term vision for Canberra and act now before population growth and congestion start costing us dearly. By 2020 congestion will cost the territory $200 million per year, an increase in more than 85 per centover the past 15 years. By 2031, the peak-hour commute from Gungahlin to the city is estimated to take more than 50 minutes if Capital Metro is not built.
Evidence from cities across the world demonstrate that different approaches to transport result in different land use and urban development. Back in 2001, Austroads stated that "there is no question that transport influences land-use development and that the effects of each on the other need to be considered in an evaluation". It would be irresponsible to consider a transport decision in any other light.
Light rail is a proven city-shaping tool, it changes the value of land and activity surrounding it – buses do not have this city-shaping effect. Governments are now clearly aware of this phenomenon and are changing approaches accordingly to ensure land use and wider impacts are included in appraisal of projects.
In January this year, the UK Department of Transport provided guidelines that clearly advise that if only direct user impacts are considered, significant economic impacts would be missing from any economic appraisal. The guidelines acknowledge that indirect impacts can be large, and are therefore an important part of the overall appraisal of a transport scheme. Research by Curtin University found that increases in land value around rail infrastructure could provide real financial returns to government of more than 60 per cent of the project capital cost over 30 years.
In September, the federal government released a framework that emphasised the contribution of infrastructure projects to broader economic benefits such as improved productivity. Federal Assistant Minister for Infrastructure and Regional Development Jamie Briggs said the guidelines would lead to a more holistic approach to assessing development that would better reflect community expectations and achieve value for money. The message for policymakers is that land use, transport and economic planning need to be considered holistically. Any suggestion that transport projects are assessed in isolation is ill-informed and takes a very blinkered perspective.
When we build new roads in new suburbs, there is rightly never any suggestion that the value of those roads lie only in the transportation benefits they bring. Those new roads are vital to the successful development of the properties they service. They allow the residents of those suburbs to get to work, to get to school, to do their shopping – all activities with benefits to our economy. Clearly, transport infrastructure is about more than just transport.
Likewise, the benefits of light rail extend beyond the simple mechanics of moving people from one location to another. The decision to proceed with light rail is not just about public transport outcomes, it is about changing the way that the city uses its land and supports future growth.
In the past decade, the territory has spent more than $1.2 billion on road infrastructure with very little public debate. We know that we cannot continue to build more roads without any balancing investments in public transport. With the population projected to grow towards 600,000 over the next 30 years, the traditional approaches applied over the past century will not meet the demands of this projected growth.
We need to refocus on public transport, changing our attitudes towards it, as well as our perceptions of the benefits it brings. Light rail is a major shift that we need in order to catalyse sustainable growth and increase the use of public transport – buses can't do this alone. We are investing in a network where buses and light rail form part of an integrated public transportation system that will support sustainable urban development.
The government's infrastructure program over the next four years is budgeted at $2.5 billion, out of a projected budget expenditure of more than $20 billion. Over the past decade, the territory's economy has almost doubled in size and we are one of only two states with an AAA economic rating. Now is the right time to make the investment in a high quality, attractive integrated public transport system. Light rail is an affordable and essential project for the territory. The government is committed to an open and transparent process and is looking forward to an informed public discussion upon release of the business case on 31 October.
The City to Gungahlin line will lay the foundation for a city-wide integrated public transportation network with light rail as its spine. It will complement a feeder bus network and support good cycling and pedestrian access. The government has engaged consultants to look closely at how the light rail network can be rolled out to other areas of the city. A potential extension to Russell along Constitution Avenue is already being explored and we shall be consulting on the wider rail network over the coming months.
The success of stage 1 of light rail is imperative to ensure momentum and roll-out to the rest of the city. It is the government's intent that the whole of the city will be serviced by a high quality, strongly integrated public transport system that makes it easy for residents and visitors alike to navigate their way across Canberra.
This is a big project, and one that will attract some controversy, but one that befits our planned legacy and one that shows we are deserving of the title of the world's most liveable city.
Simon Corbell is the Minister for Capital Metro