Recent public statements by the Master Builders Association has unfortunately undermined their role as a sensible stakeholder and places them on an extreme ideological fringe.
This is demonstrated by Master Builders' Cameron Spence, whose opinion piece ("CFMEU taking us for a ride") betrays either his ignorance of the light rail project or an active attempt to run party-political lines on behalf of the Canberra Liberals.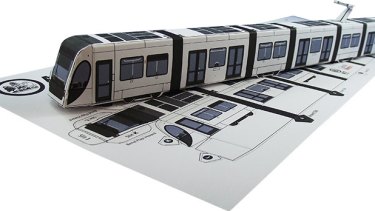 The core of Master Builders' latest complaints is that the collective agreement covering construction of the light rail project provides for direct employment. This, they claim, pushes up the cost of construction projects.
Their remedy is to insert subcontractors between the head contractor (Canberra Metro) and the construction workers actually laying the tracks and building the tram stops. This would keep costs lower, according to the Master Builders Association, because those subcontractors would pay lower wages.
It is incredible that Master Builders would be so up front about their agenda. Lower wages and job insecurity for construction workers. The most recent push by the MBA into Canberra's construction sector has cut wages for construction workers by 15 per cent for those few subcontractors who have signed up.
Meanwhile, there is a growing number of Canberra construction companies signing collective agreements with the CFMEU. Canberra Metro is just the latest to sign onto the national industry standard. The light rail collective agreement will ensure Indigenous employment and jobs for long-term job seekers, and will prioritise local contracting. Overall, the light rail project will create 3500 new local and secure jobs.
The MBA is a big business lobby group made up of major construction companies such as Grocon that aggressively minimise company tax. Many of these companies have terrible safety records, and in Canberra, a construction worker is seriously injured on a Master Builders site every day.
Mr Spence and the MBA have tried to demonise the memorandum of understanding between UnionsACT and the government. While the MBA may dislike the idea of a government committed to workplace safety and defending the rights of working people, Mr Spence does his cause no favours by making false, party-political claims about the MOU.
As I have previously stated, the memorandum of understanding gives unions no ability to choose contractors and affords unions no powers that do not already exist under industrial or workplace safety laws. The objections made by Mr Spence regarding issues such as access to records are all rights that exist under federal laws.
And let me remove all doubt: the memorandum of understanding has played no role at all in the light rail tender process.
Mr Spence also undermines the credibility of the MBA by repeating discredited claims that collective agreements in the construction sector increase costs for major projects. This kind of thinking has been imported to Australia by global construction companies that operate in countries such as Brazil or Oman, where safety protections and workers' rights are almost non-existent. Is that the kind of Canberra we want?
It is offensive to the intelligence of Canberra Times readers for Mr Spence to claim that higher construction costs are "going into some union's war chest". Everyone knows that these costs are wages going to workers in Canberra, who spend the wages – earned from back-breaking, dangerous jobs – in local shops, supporting local small businesses.
While Mr Spence and the MBA complain about labourers and other construction workers earning decent wages and having safe conditions, they are silent on the exorbitant salaries of their executives. Somehow, it's terrible that everyday working people get paid properly, but construction executives being paid millions is fine. This is disgraceful politics of envy and division by the MBA.
The Master Builders Association was once a respectable business voice in Canberra. Although unions and the MBA had differences of opinion from time to time, they were respectful and acknowledged that unions and business groups have a legitimate role to play.
During the past 18 months, the Master Builders Association has distinguished itself by taking extreme, highly partisan positions. Its once-moderate role has been trashed by new MBA boss Kirk Coningham, a former Liberal government staffer.
The rhetoric from Mr Spence and Mr Coningham is repeated by Jeremy Hanson and the Canberra Liberals in the Assembly. It is hardly surprising, given that Master Builders members have donated more than $90,000 in recent times to the Canberra Liberals.
It is unfortunate that there has been such an extreme change from the MBA. UnionsACT and unions such as the CFMEU have always been prepared to work co-operatively with the business community. We have shared objectives to promote local industry, create safe and secure jobs and ensure reputable businesses thrive.
UnionsACT will continue to work with an outstretched hand to all business groups and all sides of politics. We would welcome the Master Builders Association returning to its long-held role as a sensible stakeholder.
Alex White is secretary of UnionsACT