After failed attempts to impose a national nuclear waste repository in South Australia and the Northern Territory, the federal government has embarked on its latest attempt to find a site.
To its credit, the government has learnt from past mistakes. Instead of attempting to impose a repository (to be precise, a repository for low-level waste and an above-ground store for intermediate-level waste), the government called for landowners to nominate potential sites. The two-month nomination period ended in May. That was followed by a desktop study to evaluate the sites' suitability according to a number of social, environmental and economic factors. Twenty-eight sites were put forward and six made the shortlist: three in SA and one each in NSW, Queensland and the NT.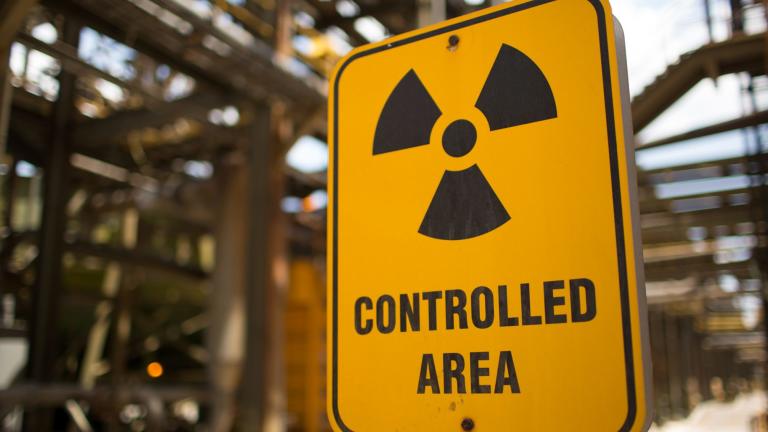 The announcement of the shortlist will be followed by a public consultation period, then detailed site characterisation studies to further assess the suitability of the sites. An announcement of a preferred (but not yet selected) site will be made in mid-2016 at the earliest.
A community compensation package of up to $10 million is on offer − a pittance considering the repository would be operational for about 300 years and hazardous for thousands of years beyond that.
Two of the SA sites are near Kimba, 150 kilometres west of Port Augusta. It is agricultural land and there is overwhelming opposition from local farmers. The South Australian debate also feeds into a debate as to whether the state might offer itself up as the world's nuclear waste dump, accepting high-level nuclear waste from power reactors around the world. Despite extravagant claims about the potential revenue stream from high-level nuclear waste, less than one in six South Australians support the proposal.
A strong coalition of Aboriginal communities and civil society organisations in South Australia has already clearly announced its opposition to hosting a nuclear waste repository and is prepared to follow in the footsteps of the Kupa Piti Kungka Tjuta, senior Aboriginal women who successfully prevented a repository being foisted on their land from 1998-2004.
Former industry minister Ian Macfarlane repeatedly said that the government would release a list of all nominations received. It appears, however, that this will not happen. If the government wants to live up to its promises of transparency and accountability, the complete list should be released. Issues that might be of interest would be the arbitrary exclusion (or inclusion) of sites for political reasons. The Howard government excluded the whole of NSW for political reasons.
Although the government says it does not want to impose a repository on an unwilling community, there is no guarantee that this government (or a future one) will not revert to earlier habits of trying to do so. The process (and the relevant legislation – the National Radioactive Waste Management Act) is lacking clear participatory, deliberative mechanisms, and the government retains the legal powers to impose a repository on an unwilling community.
Key characteristics of a successful and truly voluntarist siting process include community consent, continuous engagement with the local community throughout the duration of the project, and a flexible time frame. These are just some of the lessons Australia can draw from international experiences in siting radioactive waste repositories, analysed in a report titled Wasting time? International lessons for managing Australia's radioactive waste, commissioned by the Australian Conservation Foundation.
Community consent must be forthcoming and it must be informed consent. Defining the relevant affected community can be fraught. For example, people living on transport routes clearly have an interest but are rarely given a say. Several states and territories − indeed all four of the shortlisted states and territories − have legislation banning the imposition of nuclear waste repositories. The nomination of sites in those jurisdictions suggests the federal government may be willing to ignore or override legislative bans.
Community consent could be established by, for example, a local referendum. The community must have the right to withdraw from the process at any stage of the consultation and siting process − although, of course, a point of no return will inevitably be reached.
The next stage of the process − government consultation with affected communities − will give some indication as to how serious the government is about a new, participatory approach instead of the failed "decide-announce-defend" approach adopted previously.
An immediate problem is that visits to affected communities by government officials may not be illuminating or helpful. Government officials will insist the waste is safe and communities will wonder why it isn't buried beneath Parliament House – or at a local landfill – if the waste is as safe as the government insists it is. Communities might also ask government officials to reconcile their reassuring claims with real-world experience − a chemical explosion at a repository in New Mexico, fires at radioactive waste repositories in Nevada and Missouri, water infiltration at a German repository, leaks in a repository in France, and so on.
A more productive approach might be for the government to host debates in affected regions, bringing together nuclear proponents and opponents, independent experts, traditional owners and other affected parties.
Lastly, the government should go back to the drawing board and ask whether a remote repository is needed at all. About 95 per cent of the waste is securely stored at two locations: the Australian Nuclear Science and Technology Organisation's Lucas Heights site in southern Sydney, and Defence Department land near Woomera in SA. There is no obvious reason why that waste should be moved.
Anica Niepraschk is a researcher and author specialising in governance issues and civil society participation in democracies.
Dr Jim Green is the national nuclear campaigner with Friends of the Earth.