We have been told that suicide by the pilots might have been the reason for the loss of Malaysia Airlines flight MH370. While pilot suicide is uncommon, there have been some cases in recent years where it appears commercial pilots deliberately caused the loss of the aircraft.
More broadly, human error is a far more likely reason for aircraft crashes than mental health issues or problems with the aircraft. Last year, 11 commercial aircraft crashed, with the loss of 195 passengers and crew. It may eventually be determined that nearly all of these crashes were due to pilot error. Bad weather was often a contributing factor, with pilots apparently unable to cope with the difficult flying conditions at the time. Most accidents occur during take-off and landing, and misjudgement about landing is the most common factor for crashes. The cruise phase is the safest period of the flight.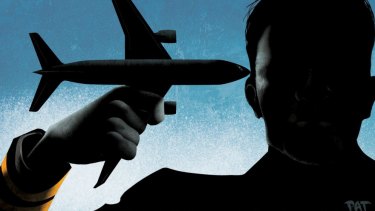 This year, there have been three commercial aircraft crashes, resulting in the death of 257 passengers and crew. They are: Nepal Airlines flight RA183, a de Havilland Canada DHC-6, which crashed in Nepal, killing all 18 people on board; Ethiopian Airlines flight ET702, a Boeing 767-300ER, which was hijacked by the co-pilot while en route from Addis Ababa to Rome, but landed safely at Geneva with all 202 passengers and crew unharmed; and flight MH370, a Boeing 777-200ER, which was flying from from Kuala Lumpur to Beijing, and is believed to have plunged into the Indian Ocean, killing all 239 on board.
To return to the pilot suicide aspect, there have been only two known cases of pilot suicide in Australia. The first was on January 5, 1977 at Alice Springs Airport when a disgruntled former employee of Connellan Airways (Connair), flew a Beechcraft Baron into the Connair complex at the airport. The attack killed four people and the pilot, and injured four more, two of them seriously. The other case was in 1982 at Bankstown Airport when the pilot of a light aircraft deliberately crashed it into the ground. There were no other casualties.
It is likely, however, that there have been many other deliberate crashes in Australia by solo pilots who wanted to end their lives, in much the same way, and for the same reasons, as drivers sometimes crash their vehicles to kill themselves. (One academic study suggested that 1.7 per cent of fatal vehicle crashes were owing to suicide).
Most people who take their lives do so because of despair, but usually they do not take the lives of others. Sometimes, however, they do so and then kill themselves – the classic active shooter situation, for example. Shooting attacks usually reflect anger or resentment against the targeted victims, who might be members of a target business, educational institution or community organisation. Another fairly common situation is for a father to kill his family members and then die by suicide..
Fortunately, very few commercial pilots who use aircraft to kill themselves decide to take their crew and passengers with them.
The Aviation Safety Network has compiled several international cases of suspected pilot suicide, with seven likely cases over the past 20 years.
On July 13, 1994, a Russian Air Force engineer stole an aircraft at the Kubinka air base to end his life. The plane crashed when the fuel ran out. He was the only casualty.
On August 21, 1994, a Royal Air Maroc ATR-42 airplane crashed in the Atlas Mountains shortly after take-off from Agadir, Morocco. The accident was suggested to have been caused by the captain disconnecting the autopilot and deliberately directing the aircraft to the ground. The Moroccan pilots' union challenged these findings. The crash resulted in 44 fatalities.
On December 19, 1997, SilkAir flight 185, a Boeing 737 flying from Jakarta to Singapore crashed in Indonesia following a rapid descent from its cruising altitude. Indonesian authorities were not able to determine the cause of the accident. It has, however, been suggested by the US National Transportation Safety Board, among others, that the captain might have taken his life by switching off both flight recorders and intentionally putting the plane in a dive, possibly when the first officer had left the flight deck. During that year, the captain had experienced multiple work-related difficulties, particularly during the previous six months. At the time of the accident, the captain was also said to be having significant financial troubles, which was disputed by the Indonesian investigators. There were 104 fatalities.
On 11 October 1999, an Air Botswana captain who had been grounded for medical reasons took off in an ATR-42. He made several demands over the radio and finally stated he was going the crash the plane. He caused the plane to crash into two parked ATR-42 aircraft on the platform at Gaborone Airport, Botswana. He was the sole fatality.
On October 31, 1999, EgyptAir flight 990, a Boeing 767, entered a rapid descent about 30 minutes after departure from New York's John F. Kennedy International Airport. This happened moments after the captain had left the flight deck. During the investigation, it was suggested that the accident was deliberately caused by the relief first officer. However, there was no conclusive evidence. There were 217 fatalities.
On November 29 last year, Mozambique Airlines (LAM) flight TM-470 crashed in Namibia following "intentional actions by the pilot", according to investigators. All 33 passengers and crew were killed.
This is by no means a complete list as many probable suicide cases were either not listed or were recorded as pilot error.
Sadly, nearly a million people take their lives every year, making it the tenth leading cause of death worldwide. Fortunately, only a few are professional aviators. Despite the crashes involving suspected pilot suicide, we should feel reassured that last year nearly 3 billion airline passengers travelled safely to their destinations on international flights. In terms of incident-free miles travelled, flying remains by far the safest way to travel.
Lifeline 13 11 14
beyondblue 1300 224 636
Clive Williams is a visiting professor at the ANU's Centre for Military and Security Law, and an adjunct professor at Macquarie University's Centre for Policing, Intelligence and Counter Terrorism.