The celebration of Canberra's centenary shows how historical commemoration should be done. While the festivities feature the sepia tones, top hats and bonnets of our past, they are also multifaceted, multicultural, forward-looking and outward-facing. The commemoration is cheerful, does not take itself too seriously, only lasts for a year and no one minds if we ignore it and go to the coast instead.
By contrast, 2014 will mark the beginning of five portentous years of military commemoration, marketed by the Department of Veterans Affairs. There will be services at home and abroad, local projects, support for artists and institutions ''to develop commemorative displays and artistic creations that showcase our military history'', the restoration of World War I memorials and the building of new ones, possibly a travelling exhibition of war memorabilia and a restaging of the first convoys of soldiers to Egypt and Gallipoli.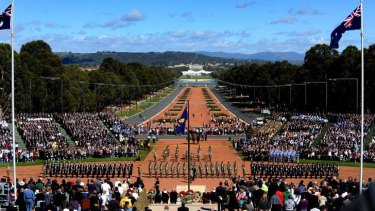 The Anzac centenary website lists 250 military events as potential subjects for commemoration. While the focus is ostensibly World War I (1914-18), these events are dated 1899 to 2008. (The centenary embodies both overkill and confusion, like war itself.) All this to ensure that ''the Anzac centenary is marked in a way that captures the spirit and reverence it so deserves and that the baton of remembrance is passed on to this and future generations''.
The centenary will be difficult to opt out from and there is an implication that it will be unpatriotic to do so. It is likely to be buttressed by what Canberra Times columnist Ian Warden described in January as ''very bad books'', ''very bad journalism'' and speeches of ''simpering balderdash'' from our political leaders.
When a single thread of our nation's story is teased out to excess, it strangles the other threads. We should not today give our military history more weight than it warrants. Australian history is social and cultural, political and economic, religious and anthropological, archaeological and scientific, as well as military. It is made by women, men, individuals, families, artists, philosophers, scientists, business people, public servants, soldiers and politicians.
We carry the imprint of the First Australians, the builders of the CSIRO, the Sydney Opera House and the Snowy scheme, the pioneers of the bush frontier in the 19th century and the urban frontier in the 1950s, and ''boat people'', whether convicts, postwar ''10-pound Poms'' and ''new Australians'' or asylum seekers. Australian history is to the credit - and the fault - of all of us, not just our Diggers.
Our history has confronting aspects as well as ones deserving commemoration. There are sinners as well as saints, rogues and wastrels as well as men and women of principle and achievement, things worth celebrating and others worth regretting or forgetting.
Among military examples, if we re-enact the departure in August 1914 of the first convoys will we re-enact also the return voyages of these young men, maimed, blind or insane, their burial in foreign fields or at sea or their fraught relations with their families postwar? If we remember the 2000 men who died at Fromelles in 1916, why not remember and try to understand the battalions who mutinied in 1918 under the pressure of war and privation? Fromelles appears in the Department of Veterans Affairs list of 250 events; the mutinies do not.
We should not edit out the less heroic parts of our military history. For every General Sir John Monash, every Victoria Cross winner, every brave stretcher-bearer, there were incompetent officers, stupid sergeants and misbehaving privates. Heroes were sometimes criminals as well and no less heroic for that. Our forces contained a mixture of humanity like any other military force, including the army of the Ottoman Empire, whose soil we invaded on April 25, 1915.
Nor were our wars fought just by adult males. There were women serving overseas and parents, partners, sisters and children at home. They also suffered, at the time and afterwards. Yet very little of the centenary's ''reverence'' seems directed at them.
The hyperinflation of Anzac, the militarisation of our history, and the risk that these phenomena will accustom us and our children to war, should not be the legacies of the Australians of 2015. Normalising war by relentless and ubiquitous commemoration is more insidious than glorifying it but ultimately just as damaging.
Our military past deserves to be recognised appropriately, as it is by the dignified elements of the Australian War Memorial, which deserve our continuing support as the national focus of commemoration. Constant plucking on this strand, however, distorts the whole fabric and us. Australia did not ''come of age'' at Anzac Cove in 1915 any more than it was ''born'' at Sydney Cove in 1788. When Prime Minister Julia Gillard, at Gallipoli on Anzac Day last year, spoke about ''the freedom the Anzacs won for us'' there, she was spouting simplistic rhetoric.
Our history is far too complex for such convenient lies. The men of Anzac were not superhuman; they were like us. Over-commemorating Anzac has been a phenomenon of the last 25 years; we need to shrink the Anzac motif to its deserved but proportionate place in our national tapestry.
David Stephens is a Canberra writer.