NSW Labor leader Luke Foley has come up with a politically brilliant two-for-one offer for voters: "If Mr Baird goes next Saturday, Mr Abbott goes on the Monday."
The prospect of Tony Abbott being removed and, presumably, replaced by Malcolm Turnbull or even Julie Bishop has certainly attracted interest.
But surely the offer should be extended? With the federal Treasurer Joe Hockey in the mix, it could turn into a three-for-one offer!
Wait, don't answer.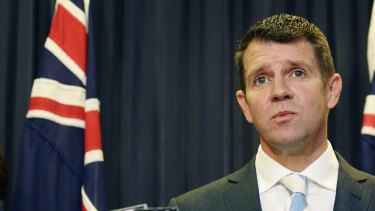 What if Foley's dream of victory on Saturday doesn't come true and Baird wins?
Does that mean Abbott and Hockey will stay too?
Probably. On top of improving opinion polls, you can expect Abbott supporters to argue that a Baird victory means NSW voters are warming to the Prime Minister again.
Please no. Surely there must be another way to use this state election in a way that has truly transformative federal implications.
Yes, there is!
Here's the latest Alan Stokes foolproof plan to manipulate the political process. (Spoiler-alert: It actually seeks to do exactly the opposite of what Luke Foley was seeking! And OK, you say, didn't Alan Stokes once predict Cheryl Kernot would be our first female prime minister? Yes, maybe sort of. But this idea is a ripper. Bear with me.)
First of all, we all vote for Baird and encourage all our friends to follow suit, no matter our party allegiances.
When Baird wins convincingly, the Liberal Party apparatchiks will see him as the messiah. He may well be, having survived a Labor scare campaign on privatisation and neutralised the anti-Abbott factor.
Federal Liberals, remember, are starting to worry about whether they can win the next election in 18 months' time. Divisions between Hockey and Bishop and Abbott – especially his chief of staff Peta Credlin – are still simmering away.
Keeping this scenario going, the Liberal partyroom inevitably looks for a saviour.
Mike Baird is it!
Yes, he's been reluctant so far to countenance a move to federal politics.
But a people-power "Baird for Canberra" campaign will soon change that.
Of course Baird will need a safe federal seat.
His state electorate is within Abbott's federal seat of Warringah. If that is not viable, we will need to convince the Liberals to find Baird another option.
Of course! Federal Libs are looking for a good reason to dump Joe Hockey. Bishop's eye-rolling, head-in-hands reaction to Hockey's razor-gang comment during his Malcolm Fraser eulogy on Monday was a dead giveaway.
Luckily, Hockey's electorate of North Sydney is just an easy jog across the clogged up Spit Bridge from Baird's state seat of Manly.
So we will start a social media campaign with the hashtag #bairdfornorthsydney. Mind you, Joe could even be persuaded to turn to state politics and become NSW premier one day!
With Hockey out of Canberra, Baird in his seat and Abbott still behaving erratically, the Liberal partyroom has a new leadership Dream Team available: Malcolm Turnbull as PM, Julie Bishop as deputy and Mike Baird as federal Treasurer.
The centrist Turnbull appeals to the party's left. The well-performed Bishop keeps her West Australian supporters onside. And the economically rational, devout Christian Baird keeps the party's right-wing nutters happy. All are vote-magnets and, as a bonus, all have a social conscience.
So Lib backbenchers bring on a leadership spill, Abbott is replaced and the Dream Team takes over.
As federal treasurer, Baird even gets to reverse multibillion-dollar cuts to the state's health and education funding. With any luck, he'll find enough money to fund Gonski as well.
Back in NSW, the popular and talented Transport Minister Gladys Berejiklian replaces Baird as premier. Either that, or Hockey finds his way.
Then one of them and the surprisingly constructive Luke Foley battle it out for the next four years. Foley may even reckon he has a better chance of beating Gladys or Joe in 2019 than he would have had against Baird.
Let's make this happen people. #bairdforcanberra.
And if that doesn't work, you can blame me.
Such is life ...