When a 74-year-old suggests euthanasia for the elderly is the solution to our country's economic woes, it is hard to know if she is serious. Yet in this paper, that is exactly what Moira Smythe of Forrest did in Saturday's letters page. Was she joking? Not entirely.
For as long as the community has been debating our right to die, there has been a parallel thread to the conversation that has hardly got a look in. Indeed, it is an issue so vexed that advocates have dared not mention its name. That theme is the significant (and escalating) economic cost of keeping the elderly and the serious ill alive against their wishes.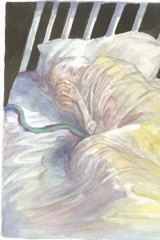 What I'm not talking about here is ''involuntary euthanasia'', as raised in jest by Mrs Smythe. Rather, I am daring to ask the question of what would happen, what could happen, if we reframed law reform on voluntary euthanasia in economic terms.
When I raised the issue of end-of-life funding in my first book Killing Me Softly in 2005, I noted the debate had barely begun. Almost a decade later and little has changed. We still have politicians like Kevin Andrews who believe it is God's duty to prolong life at all costs; even if it is not what the patient or nursing home resident might wish.
And we still have powerful sections in the medical profession who see death as a sign of professional failure. There are those who seem unable to grasp not all patients can, or should, be cured and that the frailty of old age cannot be reversed; irrespective of wonderful new drug regimes, or how effective this or that walking frame or incontinence pad is.
And then there are our parliaments, stocked by politicians who, in Gough Whitlam's words, cannot afford to be ''railed at from the pulpit at preselection time''.
Many might argue these stakeholder groups are yet come to terms with the moral imperatives of the right-to-die debate. As Anthony Albanese said during a debate as the Northern Territory's Rights of the Terminally Ill Act was overturned by Federal Parliament in March 1997: ''There is nothing moral about our exercising a free conscience vote as members of parliament and then voting to deny to others the right to exercise their conscience.''
Perhaps the focus of the debate needs to change tack? The Australian political scene has long been characterised by economics. Whether the issue is interest rates, the relative value of the Australia dollar or the Treasury's pre-election economic outlook, the tenor of public debate is all about value for money. Interestingly, though, this is not an argument that has been applied to end-of-life decision-making.
Over a decade ago, the Australian Institute of Health and Welfare estimated about 30 per cent of the health expenditure for people 65 years and over occurred in the last year of life.
A 2004 Canadian study of the cost of dying found 1.1 per cent of the population consumed 21.3 per cent of the healthcare budget. Of the ''oldest-old'' studied (those aged 85 years and over), 48 per cent of costs were for hospital care with 41 per cent being for long-term institutional care. According to the authors this ''high cost of dying'' stems from ''frail individuals with heavy needs for extended periods''. People like my own mother. Trapped in a nursing home, well beyond their - in her words - ''use-by date''.
In 2010, The Gruen Transfer ran a pitch segment on ''compulsory euthanasia at 80''. The Works ad agency from Sydney won the day with their convincing attempt at ''selling the unsellable''. While no one in the Voluntary Euthanasia Party is an economist, and no one is saying we should put people down against their will, we are suggesting it is a worthwhile debate to have - especially if hundreds of thousands, if not millions, of dollars in the health budget could be saved or redirected. How many rural nursing positions in Aboriginal communities would these savings create? How many more beds in emergency departments?
As with all voluntary euthanasia legislation, consent and stringent safeguards against abuse are implicit. When the Northern Territory became the first place in the world to legalise a patient's right to request a voluntary, lawful lethal injection in 1995, Australia showed the world what could be. In this economic climate, we can do the same again. Let's just call the spade a spade.
Dr Philip Nitschke is standing as a candidate for the VEP Party for the ACT Senate at the forthcoming election. His autobiography will be published by Melbourne University Publishing later this month.