The ACT government's housing choices discussion paper released late last year set out an agenda to change the built form and plan of Canberra. It focuses on achieving a more compact city, with a different mix of housing provisions to address what is claimed to be a lack of housing options for residential development.
Chief Minister Andrew Barr clouded the community consultation process by saying Canberrans were "stuck here in this sort of small town backwards, 1940s mindset and we need to move beyond that".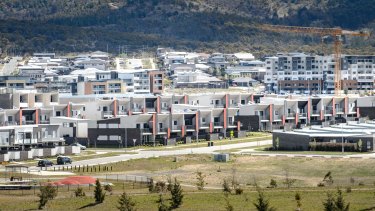 If the aim of the Housing Choices discussion paper really is, as it states, to "understand the community's current, future and ideal dwelling choices ... to ensure future preferences are catered for in the residential market", then the government needs to do better.
Former chief minister Jon Stanhope has seriously questioned the agenda, saying two main conclusions can be drawn from the 2015 Canberra community survey by Winton Sustainable Research Strategies, which was commissioned by the government for the Housing Choices discussion paper. These are "that the housing choice most commonly denied to Canberra residents is an affordable house on a detached block", and that "the ACT government has completely ignored the views of residents in relation to land supply and the built form of Canberra".
Stanhope has hit the nail on the head. The government has forced people to make housing choices they would not otherwise have made by reducing the number of blocks available for separate housing. Land prices have dramatically increased accordingly and are set to escalate further through the planned increase in land sales profit margins by 44 per cent over the next four years – no doubt to pay for the tram. The shortage of blocks for separate houses is artificially increasing demand for units and apartments - people take what they can get in the circumstances. The government is then able to turn this around and argue that it is responding to a greatly increased demand for such types of housing and is offering more choice.
Contrary to what the Planning and Land Management Minister, Mick Gentleman, claimed in the discussion paper, a preference for the separate house with a garden in the suburbs has not waned and planning action is needed to meet this housing demand.
A starting point would be to reinstate the Stanhope government's Housing Action Plan, launched in 2007. Housing researcher Professor Peter Phibbs has described this plan as the "most successful plan of its type in Australia, with a positive effect on housing affordability in Canberra".
Unfortunately, as Professor Phibbs pointed out, the current ACT government "has taken its foot off the land supply accelerator by decreasing its activity in the residential land release program". Indeed, a check on housing block sales figures in the Suburban Land Agency annual report has shown that in 2016-17 the government sold only 142 blocks for separate housing. Most were only about 550 square metres and a number were as small as 250 square metres.
One only has to look at new suburbs like Coombs to see the results of the significant change in the mix of housing types being made available today and the small size of blocks – a blighted valley vista of very ordinary looking units as far as the eye can see.
The importance of the separate house for Australians was described in Robin Boyd's 1978 history of Australian housing, Australia's Home. Boyd wrote: "Australia is the small house ... The nation was built on the principle that for every family there should be a separate house ... Ownership of one, in a fenced allotment, was the unquestioned goal of the average Australian, as inevitable as marriage."
This message has been consistent over the years. ABS housing surveys from 1994 to 2018 have shown that around 78 per cent of the Australian community aged 65-74 live in live in separate houses.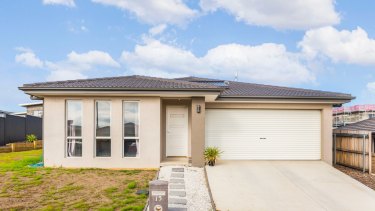 As pointed out by Stanhope, the above-mentioned Winton survey showed the preference of Canberrans for the separate (detached) house: 85.5 per cent were living in a detached (separate) house and 98 per cent were happy with the type of dwelling they had. Of the 11 per cent who planned to move to a new dwelling in the future, 91 per cent said they would move to a detached house. Only 8.3 per cent were interested in moving to an apartment.
A nationwide survey I undertook in 1998 of the housing circumstances and preferences of 295,382 veterans and war widow(er)s over 65 (sample size 1000) helps confirm that the figures in the Winton study follow a consistent pastern. It showed that 80 per cent were living in a separate house or a semi-detached house, and 81 per cent said their separate house was the perfect house for them, or would be with some modifications. The perfect house for the 11 per cent interested in moving eventually was described by them as a "shrunken version of their separate house".
The study also identified some of the transaction costs of moving. These included the stress of moving, moving away from friends and family and financial and other costs, including fees, taxes and bonds. Fewer "movers" now owned their own homes. For reasons like this, only about 5 per cent would actually move each year.
The ANU's Professor Patrick Troy has argued since 1996 that that current housing policies are based on flawed analysis and misrepresentation of the facts. He believes that older Australians are generally happy to continue living in their conventional homes and that lack of housing choice is not the problem for older people that it is made out to be: the argument about lack of choice is deterministic and efficiency driven.
Professor Troy has also been critical of what he calls the "urban consolidation agenda": that we need to live in a compact, more densely populated city.
In defence of the government, there are economic benefits in building a more compact city, although they can be overstated. For example, a paper written in 2013 by the ANU for the ACT government, Canberra's Residential Energy and Water Consumption, found very little difference in total water consumption between high density buildings and low density buildings. There can also be some adverse social consequences. Dr Hazel Easthope of the City Futures Research Centre at the University of NSW has found that lower income and vulnerable households can be disadvantaged by higher density development. I wonder how some of the former tenants of the demolished Northbourne Avenue government flats are getting on now.
The government can also claim with some justification that we are running out of land for detached housing in the ACT and that urban consolidation is essential for a city that is likely to have a population of 500,000. As a consequence, it has entered into a joint venture to build 6500 houses in NSW.
This plan is not as rash as it might first seem. Indeed, in the old Y plan for Canberra developed by the former NCDC, dumped after self-government, towns in NSW on a railway line from Gungahlin to Yass were envisaged.
There is still some hope, then, for those wanting a block for a separate house in the future – but it may have to be in NSW.
Richard Winnett is a former public servant and qualified town planner who worked for the ACT Department of Education and Training on the Gungahlin College complex before he retired.