One of my most vivid memories is riding my pink Repco bike down the coast as a 10-year-old, in an intricate game of cops and robbers with friends during the Christmas holidays.
The roads were pretty rough – rocks essentially, coated in thick tar to hold them together – so when the handlebar got caught in the pocket of my shorts and the bike unloaded me violently on to the ground, it wasn't a pretty sight.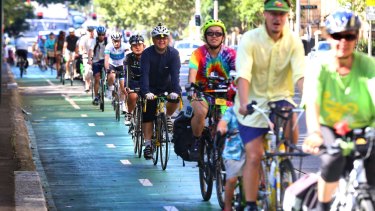 I was by myself, a few blocks from home, bawling my eyes out as blood ran down my leg and stained my new Mickey Mouse socks. Then a car turned on to the road. I was directly in its path. I had what felt like only a few seconds to pull myself together and get out of its way.
A few older girls found me and walked me home, delivering me to my mother, who thanked them before tending to my wounds, drying my tears and salvaging my socks.
Years later, I met a fellow who turned out to be an avid cyclist. That memory of the car coming towards me as I lay injured on the road meant I was quite certain I would never join him riding on the roads in Sydney – the thought terrified me.
Then my mother became unwell with a type of brain cancer. A few months after her diagnosis, I saw a sign advertising a fundraising ride for the new Chris O'Brien Lifehouse at Royal Prince Alfred Hospital. The ride was to take place on the same weekend that my mother had first been admitted to hospital the year before. It seemed serendipitous, a way to recanvas a horrible anniversary, and put behind me a traumatic 12 months with an act of faith, hope and charity – the three words I had read over and over again as I had visited her at RPA, etched into stone at the entrance.
So I signed up for the ride. And that's how I became one of those professionals living close to the city whom the latest Census report shows has taken up cycling to work in the years since 2011. My boyfriend built me a bike and started teaching me how to clip my feet into the pedals and stay upright (not always successfully – I did have a track record after all). We rode every weekend through Sydney in preparation for the 200-kilometre ride.
I delighted in the freedom of seeing my city in a new light, of feeling the wind whip past my face as I rode down a hill, the sense of achievement when I got to the top, red and ugly and sweating. It brought my boyfriend and me together, and apparently convinced him I should be his wife.
When I crossed the line at Homebush at the end of the fundraising ride, my mum was there, cheering me on, her exuberance not yet extinguished, and I burst into tears.
The latest report acknowledges the benefits of encouraging people to ride to work – it's good for the environment, for productivity and for public health, especially given so many professional jobs are sedentary in nature.
I still ride the few kilometres to work sometimes, for the ease of the commute and to enjoy a few stolen moments to myself, confident I can stay upright most of the time - although I'm more tepid about clipping in now that I have a little one waiting for me at home.
I try to be courteous to drivers, while keeping myself safe, and most are courteous towards me, although it still rattles me when someone yells out or beeps at me unexpectedly – it's the shock of it that stings.
I drive too, and catch trains and buses, and walk. I'm not just a cyclist. We all go about our lives in our own way, for our own quiet reasons. We must have policy and infrastructure in place that lets us do that, that lets us share our city – and keeps us safe.
Catherine Naylor is the Herald's deputy opinion editor.