Australia's $5 billion foreign aid program is facing great uncertainty. The government's decision to curtail the growth of the aid budget, as well as the decision to integrate AusAID into the Department of Foreign Affairs and Trade, signals a significant shake-up.
Change is under way, but what reforms does the aid program really need?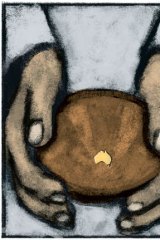 On Thursday, the Development Policy Centre at the Australian National University launches the results of a ground-breaking survey that draws on the knowledge of those who know the aid program best.
These are the non-government and contractor executives, the government and multilateral organisation officials, the academics and consultants that partner to deliver Australian aid. The survey results show that while these groups hold different views on some issues, it is remarkable how much they agree on.
The 356 aid experts and practitioners surveyed think that Australia's aid program is good and improving, but they are also clear that there is an unfinished reform agenda. Respondents are largely happy with the sectoral composition of the aid program, and its focus on the Asia Pacific. Interestingly, given the new government's intention to more closely align foreign aid and diplomacy, the stakeholders surveyed indicated they thought strategic and commercial objectives were already considered to be more important for aid than development goals. It is questionable whether any further realignment is necessary, and if it is it should not be hard to achieve.
Aid effectiveness is the real challenge identified by the survey.
Respondents were asked about a range of factors - 17 in all - which are known to influence aid effectiveness and support for aid. These include being selective and realistic, having good monitoring and evaluation, and having sufficient staff expertise. Overall, the scores were disappointing, with only six of the 17 attributes receiving a ''pass mark'' of at least three out of five.
Some weaknesses stood out more than others. Lack of staff continuity in the former AusAID was a particular complaint. So was slow decision-making, micromanagement, risk aversion, and lack of selectivity. But the main message was that while Labor put in place a good reform agenda for improving aid effectiveness, it fell through on its implementation, and that agenda has a long way to run.
There are both short-term and medium-term implications for Coalition aid policy from the survey.
In the short term, there are real risks that aid effectiveness will worsen under current settings. With all the corporate and strategic uncertainty now, and budget and staff cuts, critical factors for aid effectiveness such as staff continuity, staff expertise, and program continuity are all under threat. And areas where there has been progress, such as transparency, might be neglected.
The AusAID and DFAT merger is now a fact of life, but budget, staffing and structural decisions need to be made quickly and in such a way that staff and program continuity is protected.
In the medium to long term, efforts to improve aid effectiveness need to be redoubled. The Coalition has said it wants more effective aid, and benchmarks to monitor aid effectiveness. Reforms should be geared towards tackling the critical areas of weakness identified by the survey. Benchmarking these areas through survey and administrative data will be critical for ensuring progress.
The richness of the data now available for analysis shows the value of asking aid experts and insiders for their informed views. Australia's aid is delivered by a partnership involving many individuals and organisations. Those who are entrusted to deliver Australia's aid know most intimately the day-to-day challenges that stand in the way of more effective aid. We should listen to their views.
Professor Stephen Howes is the director of the Development Policy Centre at the Crawford School of Public Policy, Australian National University. For more information about the 2013 Australian aid stakeholder survey, and for the full report, visit devpolicy.org.