Underage offenders who don't confess to their crimes straight away will be able to participate in restorative justice for the first time, under draft laws introduced into the ACT Legislative Assembly on Thursday.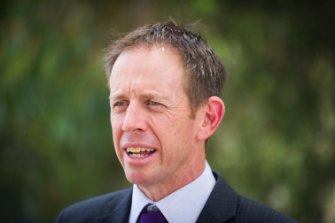 Currently, only offenders who proactively accept responsibility for their crimes can access restorative justice, which brings a victim and a perpetrator into the same room to work out how to repair the harm caused by the crime.
But under changes introduced this week by Justice Minister Shane Rattenbury, the onus would be reversed to allow offenders aged under 18 who committed less serious crimes to access restorative justice, as long as they don't deny responsibility for the crime.
Mr  Rattenbury said the changes were particularly targeted at young Aboriginal and Torres Strait Islander people, who may not cooperate with police at first because of "historical mistrust".
"At the point of arrest they might say nothing and in the moment that's interpreted as them denying responsibility so we're moving to 'does not deny responsibility'," Mr Rattenbury said.
Mr Rattenbury said the changes were spurred by reports last year of police failing to divert young Indigenous offenders away from the criminal justice system.
Restorative justice has been used in Canberra for more than a decade, as a way of rehabilitating offenders and giving victims of crime closure.
Depending on the seriousness of crime, restorative justice can begin before an offender enters a plea.
The draft laws include a clause that if a young offender enters a restorative justice scheme, they can still plead not guilty in court.
Restorative Justice Unit senior convener Tracey Lloyd said an offender could plead not guilty for technical reasons, but could still take responsibility for the harm that was caused even if they did not agree with the exact charge.
"It might not be about the offence or all these circumstances around it so if someone is still taking responsibility for part of an offence they are able to gain insight and respond to a victim of crime's need," Ms Lloyd said.
Mr Rattenbury said work was continuing to expand the scheme to allow referrals of sexual or family violence offences by the end of the year.
He said work from Family Safety ACT coordinator-general Jo Wood had shown many survivors of domestic violence wanted to lose the violence, not the relationship.
"This is not right for everybody and not victim will want to go through this process, that's the fundamental nature of it being voluntary. Through a process like this the perpetrator can get a much clearer insight into the impact their violence has," Mr Rattenbury said.
Restorative Justice Unit senior convener Trevor Higgs said the changes would especially help young family violence offenders.
"When people think about family violence they always jump to intimate partner violence but what about two siblings who are fighting. Is it right for them to get to court and the mum to be torn between the both of them? We can take those cases," Mr Higgs said.
"Yes we might deal with the intimate partner violence too in which case we'll work with professionals and supporters and people will have to go to therapy before they come to participate etcetera but there's also the minor spectrum of sibling rivalry, a teenager who pushes his mum for the first time and that needs to be addressed straight away.
"We can take those cases and keep it out of court if a certain criteria is met, or get it from court and work with court."
Katie Burgess is a reporter for the Canberra Times, covering ACT politics.