ACT Opposition leader Alistair Coe has been questioned about his bill for an anti-corruption commission and how it could effect witnesses' right to professional legal privilege protection with their lawyers.
Mr Coe was the first witness before the Legislative Assembly's new inquiry into the anti-corruption commission proposal, which is examining both his bill and the government's exposure draft for the planned commission.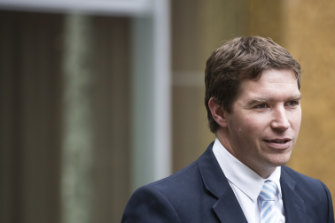 The inquiry is expected to be a swift one, in order to finalise recommendations for a final bill expected to come back before the Assembly for debate before the end of the year, so the government can start setting up the commission next year.
While both bills are largely similar, they differ in some key aspects, including measures surrounding the way the commission would handle witnesses' rights to legal professional privilege over information they gave to, and advice sought from, their lawyers.
The issue has been highlighted in a raft of cases before interstate anti-corruption bodies, as various governments attempt to find a balance between ensuring a commission has powers to fully investigate corruption allegations, while trying to maintain the right to privilege.
It also can further complicate matters for prosecutions that may stem from a corruption inquiry, as evidence gained by the commission under information-gathering powers, potentially including privileged documents, may not be able to be used in future prosecution proceedings.
During Friday's hearing, Labor MLA Chris Steel raised concerns Mr Coe's bill may raise human rights implications given it would give the commission power to compel privileged documents from witnesses and their lawyers.
The issue was canvassed in the initial committee inquiry, where the committee urged the government to ensure any enabling laws included mechanisms to guard against such powers being abused, "including safeguards to
avoid any unwarranted violation of personal rights of a person under investigation".
To that end, the government's draft included a section ensuring that witnesses before the proposed commission could essentially appeal any incursion on legal privilege, making it the purview of a Supreme Court Justice to hand down a final decision on whether the commission's application to access such information should be allowed.
But Mr Coe's bill does not include such a safeguard, prompting Mr Steel to ask why, and whether the Opposition had considered potential human rights implications.
Mr Coe told the committee he believed the commission should not be held to the same standard as courts, given it was essentially a body to establish facts, and while it could be abused, he believed the Assembly needed to have faith in any appointed commissioner, given they would need to be a lawyer of high standing.
"I've got no problem in [witnesses] seeking legal advice, but there is a real risk that if somebody is seeking legal advice, it could be used as a get out for the commission doing its job," he said.
"And all that would lead to is the very issues the commission investigating going straight into court, which is what we're trying to avoid."
He was also asked why the bill did not seem to keep complainants as informed of investigations, to which he said he believed the commission would operate similar to the audit office, which engages in scant external communication about its investigations to complainants.
Mr Coe was also asked about the bill's measures surrounding public hearings, which his bill would make a 'default position' for the commission, essentially the reverse onus compared to the government's exposure draft.
The inquiry continues.
Daniel Burdon is a reporter for The Canberra Times