Gambling reform advocates have called on the ACT government to overhaul its poker machine community contributions scheme, including making funding decisions about contributions independent of Canberra's clubs.
Calls for the overhaul follow reports showing most funds go to sporting teams, and an Auditor-General's report found there was little oversight of the scheme, and the definition of contributions was "ambiguous".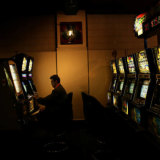 It also comes as Greens leader Shane Rattenbury this week admitted the government's poker machine transfer scheme, which was supposed to reduce total machine numbers in Canberra, had not been as "effective as intended".
The Canberra Gambling Reform Alliance has urged the overhaul in a bid to ensure more of the revenue derived from poker machines is returned to the community, in cash, to help alleviate the harms associated with the gambling.
Alliance spokeswoman Rebecca Vassarotti said the alliance wanted to put the decisions on what should be funded through the scheme in the hands of an independent group with expertise in public health so a bigger share of the funds could be directed to the harms of poker machine gambling.
She said the current system allowed clubs to decide where the money went, and it meant most of the funding was directed to sport and recreational activities.
"Though we understand that funding if highly valued by the organisations that receive it, we're not seeing enough actually directed to the harms gambling is causing, so we need a whole re-framing of the levy and what it is for," she said.
While Ms Vassarotti said clubs may not welcome the proposals, recent independent reviews of the scheme, as well as an Auditor-General's examination that found it had little oversight and "ambiguous" definitions, had shown the scheme was inadequate and "no longer fit for purpose".
Among the changes the Alliance has called for are to remove 'in-kind' contributions from those claimed under the scheme and force clubs to transfer contributions to the government, with decisions about funding moved to an independent public health-focussed group, rather than decided by clubs.
The Alliance has also urged 30 per cent of contributions should be dedicated to gambling prevention strategies, 30 per cent should go to recovery services and financial harms of poker machine gambling and 40 per cent should go to community organisations including sports, health and education groups.
While a PwC review of the contributions scheme has estimated the $10.5 million in contributions under the scheme in 2015-16 led to a $33.2 million benefit to the community, the vast majority of that money went to sporting teams and recreational activities.
The scheme centres on a levy forcing clubs to put 8 per cent of their net gaming machine revenue towards towards community contributions, but despite incentives to make greater voluntary contributions to problem gambling, few clubs contribute above the mandatory level.
Ms Vassarotti said the alliance also wanted in-kind contributions excluded, as the revenue earned from poker machines was taken as cash, and so too should contributions to problem gambling or community causes.
"We're only talking about eight per cent, I think it's a very modest contribution and clubs are welcome to direct the other 92% of their gaming revenue to other activities as they see fit," she said.
"We're not running an anti-clubs campaign by any stretch, we recognise their role, but really there is significant evidence of the harm caused, and so a significant proportion of the funds should be addressing those harms, and that hasn't happened through self allocation."
Daniel Burdon is a reporter for The Canberra Times