Fight for gender equality in Canberra to get a $700,000 budget boost
The fight for gender equality in Canberra will get a $700,000 boost in the upcoming ACT budget.
The territory's Office for Women will get an extra $696,000 over the next four years in next month's budget to implement key actions in the ACT Women's Plan.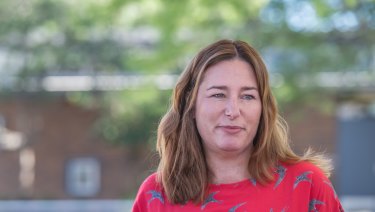 The plan aims to improve the evidence base around gender equality, eliminate unconscious gender bias across government through training programs, and promote gender diversity on boards through a diversity register and board traineeships for women.
ACT Minister for Women Yvette Berry said the board traineeship program was particularly focused on industries where female representation was low, and sporting groups who must meet a target of 40 per cent female representation by 2020.
"The Canberra community has long led the nation on equality and inclusiveness for women and other communities who face barriers to full inclusion," Ms Berry said.
"This new support to deliver the priority initiatives under the ACT Women's Plan will mean we can continue making progress towards the full and equal participation of women in all aspects of our community."
Women on Boards Australia executive chair Ruth Medd said while female representation on boards had improved in some sectors, it still lagged in others.
"Government boards generally do better; in the federal government [female representation on boards] is up to 45 per cent," she said.
"The first time we measured the affordable housing sector it was 40 per cent, now it's 42 per cent. Corporate research has come up from 17 per cent in 2010 to 28 per cent in the latest data. It does show you things are slowly improving, which is good, but it's taken a lot of effort from a lot of people."
Part of that has been overhauling the recruitment process for boards, Ms Medd said.
"In the past, it was all about who you know, and funnily enough women didn't get a look in because men generally knew men," she said.
"You want access to the maximum talent available in all areas of the economy and boards are no different.
"If the only talent you have access to is male, you're missing out on 50 per cent of the talent."
The ACT budget will be handed down on June 5.
Katie Burgess is a reporter for the Canberra Times, covering ACT politics.