ACT Opposition leader Alistair Coe has admitted 19 submissions to the rates inquiry got caught by their outgoing spam filter, a day after the Legislative Assembly launched an inquiry into allegations the Liberals tried to corrupt the process.
A privileges committee was set up on Thursday to investigate the conduct of Mr Coe and Liberals Candice Burch and Elizabeth Lee, after they asked people to file submissions on how they'd be negatively impacted by rates rises via a website owned by the party.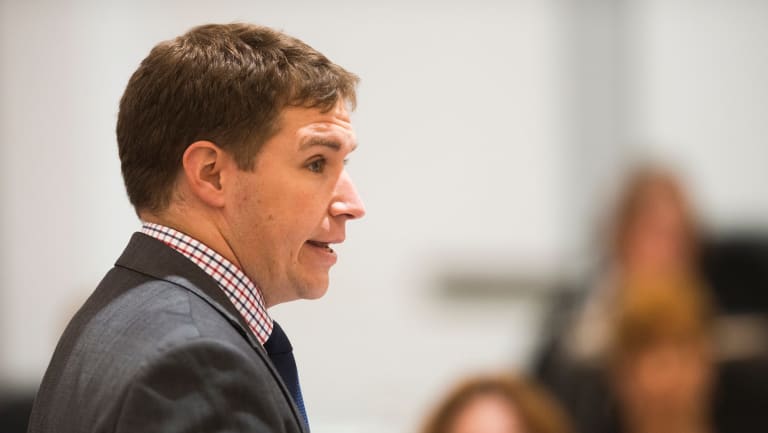 While Mr Coe said all submissions were automatically forwarded onto the committee unchanged, Labor backbencher Bec Cody said there was no evidence of this, opening up the possibility the inquiry has been "biased" or "corrupted".
The accusation caused the Liberals to double-check on Thursday night, when they allegedly found the 19 unsent submissions.
Mr Coe said they had now been passed onto the committee, although later acknowledged there was no guarantee the committee would accept them.
He stood by the use of the website, despite the bungle.
"It's now clear there are even more people who are furious with the rates regime for apartments and units in Canberra and were very pleased we're able to facilitate so many people being able to contribute to that inquiry," Mr Coe said.
He hit out at the traditional processes used by the Assembly to gather submissions, saying they were cumbersome and outdated.
He said the Assembly was becoming an "ivory tower" and their previous attempts to change the system had failed.
"While there might be some people in Canberra who care about insider stuff, there might be some people who care about politicians, budgets and committees, the vast majority of people are busy living their lives," Mr Coe said.
"They want a good road to drive on, they want to park at their local shops, they want a doctor when they're sick and a good education for their kids. They don't care how it happens as long as it happens and we've got to make sure this place is responsive and allows people to contribute to the debate."
The privileges committee will rule on the conduct of the three MLAs by July 31.
The rates inquiry, which was nearly derailed by the accusations, can continue but cannot report before then.
The privileges committee, chaired by Greens leader Shane Rattenbury and containing Liberal whip Andrew Wall and Labor whip Tara Cheyne, will also look at the use of other third party forms to send submissions to ACT Legislative Assembly inquiries.
Katie Burgess is a reporter for the Canberra Times, covering ACT politics.