Parliament House light rail bottleneck would be 'disaster': Seselja
ACT Liberal Senator Zed Seselja says closing lanes on Commonwealth Avenue for light rail would cause "commuter hell", as the prospect of building another bridge for the tram to cross Lake Burley Griffin grows more likely.
On Friday, Senator Seselja echoed the National Capital Authority's concerns the approach to Parliament House could become a bottleneck if the Barr government permanently shuts a lane each way for light rail, saying it would be a "disaster".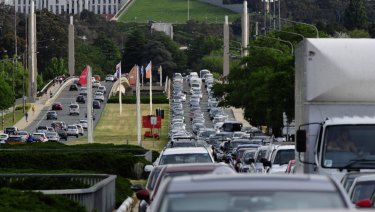 "It would cause commuter hell for Canberrans if ACT Labor got their way," Senator Seselja said.
"It vindicates my calls for an inquiry. If ACT Labor is left to its own devices in seeking to save money, it will cause major problems for Canberra commuters."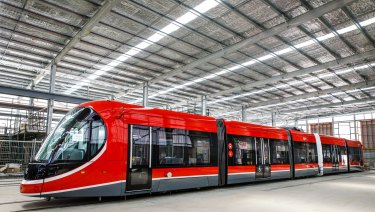 However ACT Transport Minister Meegan Fitzharris hit back, saying the prospect of closing lanes was put forward by the NCA last year in their plan to overhaul Commonwealth and Kings Avenues.
"It appears now the NCA aren't proceeding with that so we will be looking at the second option which is to build a bridge in the middle of the existing two bridges," Ms Fitzharris said.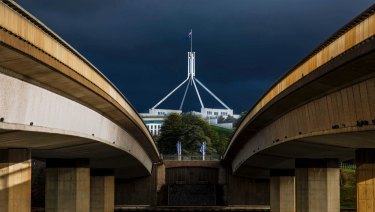 "It's important to note that this was a proposal put forward by the NCA some time ago, we've been working with them all the way along and will continue to do so."
Building a second bridge will be more expensive than using the existing one, and Ms Fitzharris said that would ultimately have a bearing on which option they choose.
"What we currently know is if light rail were to travel on the existing bridge, we would need to do some further, very detailed work but from what we know now, that is feasible," Ms Fitzharris said.
"We understand now building a second bridge would be more costly than using the existing road surface so those are both options we've always been exploring.
"Just like with stage one there were some key requirements that the ACT government have, certainly one of them was cost, transport benefit, city-wide benefit, sustainability benefits and urban design outcomes, so all of those remain consistent for light rail stage two as they will be for the whole light rail network as we look to plan and deliver light rail for all of Canberra."
However an NCA spokeswoman said their plan did not include exclusive-use light rail lanes, but rather public transport lanes in a shared-use arrangement as part of the existing six-lane configuration of Commonwealth Avenue.
"The initial feedback from the community was that any proposal to reduce traffic capacity on Kings or Commonwealth Avenues, such as additional traffic lights as was proposed by the draft design strategy, should not occur until traffic modelling analysis was undertaken," she said.
The NCA also flagged plans last month to eventually reduce Northbourne Avenue from six to four lanes from Alinga Street to London Circuit as part of its plan to overhaul Canberra's main drag.
Senator Seselja said he did not agree with that either.
"It's not roads or public transport, you need a mix of both," he said,
"I'm a big believer in good public transport but it needs to be done in the proper way with good outcomes for commuters, whether they're public transport users or drivers."
Ms Fitzharris said Canberra's public transport capacity will more than double in the next 12 months, with five new rapid bus services starting this year.
She said while bus patronage for this year was on track to exceed targets, more people needed to catch public transport to avoid future congestion.
"The school holidays is a great time to talk about this, everyone knows the school holiday effect on our road system, that gets somewhere between 5 to 8 per cent of cars off the road," Ms Fitzharris said.
"If we can shift that same number of people onto public transport we can have a permanent school holiday effect by people using more public transport. That means [the transport network] works better for everyone, everyone who needs to move around our city every day."
Katie Burgess is a reporter for the Canberra Times, covering ACT politics.