They're young, ambitious, and not afraid to tackle the questions that have stumped politicians 20 years their senior.
Nearly 120 Canberrans aged 12 to 25 took over the ACT parliament on Friday as part of a Youth Assembly, an exercise in deliberative democracy designed to get young people involved in policymaking.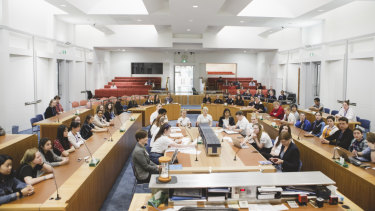 They were tasked with coming up with recommendations on government policy in four areas: civic participation, youth mental health, youth homelessness and equity for Aboriginal and Torres Strait Islander young people.
Minister for Children, Youth and Families Rachel Stephen-Smith said the purpose of the exercise was to give young people a voice in a place most of them feel cut off from.
"There's a real discussion about young people not engaging in politics. Young people don't necessarily want to engage in politics in a traditional way," Ms Stephen-Smith said.
"They might not join a political party, they might not write a letter to the editor or come along to a meeting but that doesn't mean they don't care about issues.
"The way politics is conducted is pretty alienating for a lot of people including young people but what I see as I go around talking to young people in the community is that they are passionate about issues, they are passionate about the future, whether that's environment or homelessness or equality more generally and particularly issues around youth mental health.
"This is really about finding one way, one forum for them to have a genuine say about those issues."
The Canberra Times asked six participants questions on six issues that have divided the Canberra community in one way or another over the last year or two. Here's what they had to say:
Should the smoking age be lifted to 21?
"At 18 in this country you're legally an adult in every other way and I don't think it's the state's role to protect people from themselves if that's a decision you want to make. I believe you should be educated about the risks of smoking and the health effects associated with that but if you're legally an adult I don't think you should be prevented from doing that." - Rohan Rodrigues Macias, 17, Canberra College
Should we lower the voting age to 16?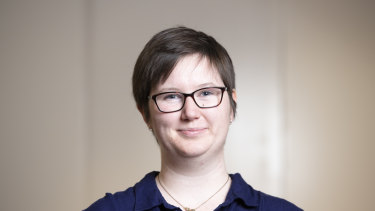 "My friends and pretty much everyone at school are really for it but I was an idiot a year ago, I only took up my favourite class global studies and now I know so much more, I've been to the Legislative Assembly a few times, I've been to the federal parliament and now I feel like I'm able to have a say in these voting matters but unless you're prepared for it and unless you're ready for it it should definitely not be compulsory." - Clara McArthur, 17, Canberra College
Should we provide more budget funding for youth mental health services?
"I don't think we do enough to support our young people with mental health because a lot of the places I've personally experienced have been underfunded and understaffed. There's not much education about mental health other than anxiety and depression which is quite widespread and I think a lot more needs to be done with these stigmatised mental illnesses like bipolar disorder or borderline [personality] disorder." - Al Azmi, 25, Australian National University
Should cannabis be legalised for personal use?
"I'm a bit torn because I'm supportive of it for medical reasons because obviously it has great benefits and the same time if it's used for recreational purposes it does less harm than say smoking can so it's a bit of a hard thing to decide on." - Kari Gilbert, 15, Emmaus Christian School
Should NAPLAN be dumped?
"I don't think NAPLAN's very good only because it's so much about how you are on the day. I think it's good we're having this thing so we can have statistics about how people are going but if you're having a bad day and you have a NAPLAN test, that's where you are, that's where people are judging you. I think they should be judging statistics on grades you get over the year from school because you're getting more of a range." - Oliver Russell, 13, Radford College
Should Canberra's college system be axed?
"I believe the college system works. It gives students a lot more grounding to make their own decisions and to slowly implement themselves into independent learning." - Selina Li, 16, Narrabundah College
Katie Burgess is a reporter for the Canberra Times, covering ACT politics.