The Australian continent has historically boasted a rich linguistic diversity, yet despite the gift of experience, language education continues to provide an absorbing insight into the state of our public policy development.
Grand intentions and sound policy are often distant strangers when politicians speak of the need to improve our competence in foreign languages. An aspiration to increase participation in language study, or to increase the number of students who finish high school fluent in a language other than English, does not necessarily equate to good public policy.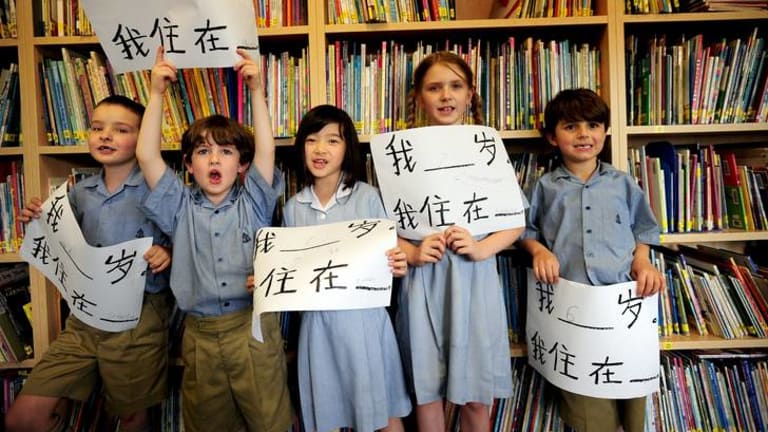 The release of the white paper on Australia in the Asian Century plays to Labor's strength as the party most willing to embrace our neighbours and pursue deeper engagement in the region. The paper speaks of the need for 'continuous access' to languages and promises uninterrupted access to one of four priority Asian languages, from primary school to high school.
In an attempt to neutralise any political advantage the white paper might have brought the government, the opposition proposed earlier this year to increase the ratio of students studying foreign languages at matriculation level. Both the government and the opposition have adopted policy positions that focus on the number of students studying foreign languages, rather than the standard achieved.
In doing so, both major parties have avoided the dishonesty of announcing ambitious targets concerning the number of students fluent in a foreign language. Such targets have been announced in the past and were simply not achievable. However, as no commitment has been made to increase the number of Australian students fluent in a second language, one might wonder what these policies aim to achieve.
Why increase the number of foreign language students if we don't care if any of them reach a level that would be useful in a real context?
Language study offers a window to another culture. Students who learn a foreign language develop an understanding of another culture, even if the student ultimately falls short of fluency. To develop such an understanding is in itself an important outcome to be encouraged in a modern curriculum. It develops awareness in students of cultural differences and the diverse ways that people outside Australia view the world. Our curriculum should, however, aim to provide a pathway to excellence in any discipline.
Only a sustained commitment by successive governments to solid, honest policy and a serious investment in resources will provide such a pathway. Excellence in foreign language learning should be understood as proficiency - a term used by experts to describe a level only marginally inferior to that of a native speaker. Our curriculum should offer a delineated pathway to proficiency.
Often, students abandon foreign language study early, feeling frustrated by their lack of ability despite years of study. The number of students who study a language at school and then continue to study the language at university is infinitesimal. Students who enthusiastically embrace the complicated and time-consuming study of languages face a number of hurdles once fluency becomes their goal.
In the past, a clear pathway from primary school through to university often did not exist for students wishing to learn a particular language. When it did, it was susceptible to changes in curriculum or policy in the institutions that formed part of that path at the journey's beginning. The white paper offers the guarantee of uninterrupted language education from primary school to high school, but what of tertiary education?
The decision, now reversed, by the University of Canberra in late 2011 to close its Japanese language course with only a few months' notice demonstrates how ephemeral such a path can be. Other universities looking for programs to cut are likely to look at language study, as quality language education as a dynamic living experience is not cheap.
The education system in Australia is currently incapable of producing students proficient in a foreign language because of a lack of suitably qualified teachers.
The National Broadband Network will be a useful ancillary tool but it cannot replace a live teaching experience with a native speaker. Of greater concern is the limited time available to study languages at schools.
To develop proficiency, daily immersion for extended periods of time and instruction by native speakers is required. Between 800 (for the romance languages) and 2600 hours (for more complicated Asian languages or Arabic) of intense, focused study is recognised as the minimum amount of time needed to achieve language proficiency.
Language proficiency can only be achieved in Australia by creating a context in which students can be immersed in a foreign language. Establishing a number of bilingual schools is one way that an immersion environment can be created through creative and committed policy. The ACT is well placed to show leadership on this level.
Canberrans have responded favourably to the Federal Government's NALSSP (National Asian Languages and Studies in Schools Program) initiative, the number of students studying a foreign language more than doubled between 2008 and 2011. The local community in the ACT would support further bilingual schools. Currently, there is an excellent model for bilingual education in Telopea Park School where applications for entry are double the number of positions available.
Establishing English-Mandarin and English-Japanese schools would reflect the strength of Australia's trade relationships with China and Japan, the ACT's current sister-city relationships, and would balance the European language education which is the focus at Telopea. The bilingual program at Telopea benefits from the substantial support of the French government by way of a binational agreement signed in 1983. Such an investment would need to be mirrored for similar bilingual schools to survive.
The potential for further binational agreements is real, and ongoing support could be sourced from the Taiwan Institutes, Han Ban or the Confucius Institutes for a Mandarin-focused school, and the Japan Foundation for Japanese. There also exists the potential for corporate partnering with businesses which engage in large scale trade with these countries, such as Rio Tinto and BHP, to balance the funding mix.
For too long, parties have agreed it would be beneficial for students to have a stronger grasp of foreign languages but have failed to develop policies that will achieve it.
It is time that policymakers overcome the language barrier that has made good policy and grand intentions strangers.
Andrew Hunter is chairman of the Australian Fabians.
Morning & Afternoon Newsletter
Delivered Mon–Fri.