Australia is now surplus to Australia's border protection requirements.
With Labor clearly taking an ''in for a pound'' approach to Howard-era asylum seeker policies, caucus yesterday signed off on a plan to excise the entire mainland from the migration zone.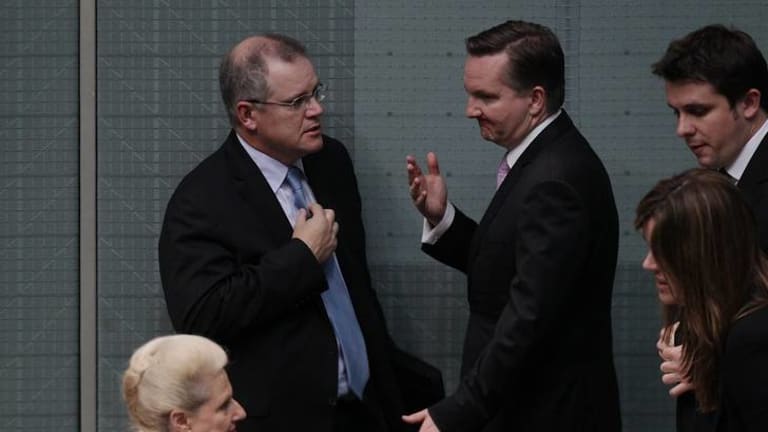 According to Immigration Minister Chris Bowen, the excision decision was necessary to stop people smugglers making dangerous promises about a direct passage to Australia to avoid offshore processing. If you're an asylum seeker on a boat, all ocean roads now lead to Christmas Island, Manus or Nauru.
No one can argue against safety. Except for the fact that in 2006, when the Howard government tried (and failed) to excise the mainland, Bowen called it a ''bad bill with no redeeming features''.
The Coalition hit the hypocrisy button with gusto (inconsistency alert!). The opposition immigration spokesman, Scott Morrison, decreed Bowen's musings to be a ''stark reminder'' that the government didn't have the resolve to ''stop the boats'' … perhaps not seeing the potential hypocrisy angle for his own party, given he was criticising Labor for supporting an old opposition plan.
There was no shortage of gusto (or blusto) during question time either, as shadow treasurer Joe Hockey set sail on the fiscal warpath. Did Wayne Swan stand by his statement that the government would return the budget to surplus this year, ''come hell or high water''?
As Swan was preparing his response, Liberal MP Don Randall was kicked out for an unofficial supplementary question: ''Are you in hell or high water?''
Swan ignored Randall and appeared to ignore Hockey too.
In a wide-ranging address, the Treasurer referred to the midyear economic update brought down last week. He talked of the government's savings and how it ''absolutely'' stood by all the forecasts. He concluded with the well-known economic insult: ''What we have heard from the shadow treasurer has been a conga line of clangers.''
Hockey was more incensed than a schoolies week at Byron Bay. At the very next opportunity, he was back at the despatch box. When did the Treasurer decide to start ''crab-walking'' away from his ''honest promise'' to deliver a surplus in 2012-13? Swan was in no mood to play crustaceans and again talked of MYEFO, savings and forecasts. ''We will always put in place the appropriate fiscal settings which support jobs and growth in our economy,'' he said.
With patchouli smoke practically coming out his ears, Hockey then tried to suspend standing orders. ''C'mon, debate the economy!'' he bellowed at Labor, interrupting his own damnations about the surplus.
Prime Minister Julia Gillard slumped forward in a theatrical display of frustration. Unfortunately, it wasn't possible to excise the Coalition half of the chamber … was it?

Judith Ireland is a special writer, weekends, for the Sydney Morning Herald and The Age, based at Parliament House
Morning & Afternoon Newsletter
Delivered Mon–Fri.