Australia was not involved in the coalition air strikes against Syria on Saturday but has strongly backed the "calibrated, proportionate and targeted" action taken by US President Donald Trump.
Defence Minister Marise Payne confirmed she had been briefed by US Defence Secretary Jim Mattis about the strikes and conveyed Australia's full support for the bombing of three sites believed to be linked to the Syrian regime's chemical weapons capability.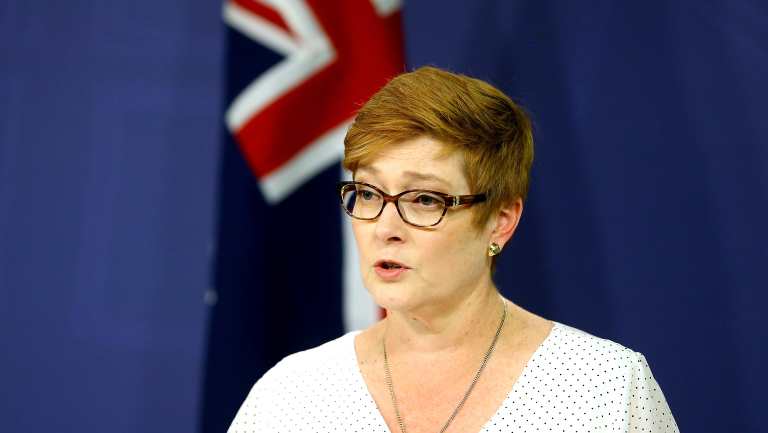 The strikes - unleashed by US, British and French forces on Saturday morning Australian time - were in response to a suspected chemical attack on the Syrian town of Douma last week which killed at least 70.
Australian strike fighters left the region in early January and were not involved in the operation. Australian military assets that were in the area were not utilised in the strikes.
Ms Payne emphasised Mr Mattis' assurances that Saturday's strikes were a "one time shot", even as Mr Trump warned of potentially more action to come. She said she did not envisage further strikes "at this point in time" but did not rule out Australian participation in the future, if asked.
"Any future requests or any future discussion will of course always be considered on its merits," Ms Payne told reporters in Sydney. She did not discuss potential future strikes with Secretary Mattis on Saturday, she said.
Ms Payne said the strikes were "not seeking to escalate the conflict in Syria" - but the AFP news agency reported that Iran, a supporter of the Syrian regime, immediately warned of "regional consequences", and global eyes have turned to how Russian leader Vladamir Putin will respond.
NSW Liberal senator Jim Molan, a former Australian army major general, said the strikes were "the right thing to do without a doubt" but he hoped the reaction could be "controlled".
"I don't think [Mr Putin] has a lot of options," Senator Molan told Fairfax Media. "His options are as limited as the American actions are. Everyone's talking a big game but the options are very limited and very dangerous."
Senator Molan said there was "absolutely no reason and no justification for Australia to participate" in any future air strikes of the kind threatened by Mr Trump on Saturday.
Prime Minister Malcolm Turnbull - who spoke to his British counterpart Theresa May on Saturday - shamed Russia for its "blatant disregard" of international law in using its veto power at the United Nations Security Council to block an independent investigative body to look at chemical weapons use by the Syrian regime.
Mr Turnbull praised the US, Britain and France for acting "forcefully" to what he described as the "llegal and utterly reprehensible" actions of Syrian leader Bashar al-Assad.
The Labor opposition broadly agreed with the government's stance, with Mr Shorten describing the US action as "appropriate".
But Greens leader Richard Di Natale condemned the "barrage of missiles" as a dangerous move from an untrustworthy US President that would escalate the complex situation in Syria.
Ms Payne said the targeted strikes on three sites - a research centre near Damascus, a weapons storage facility west of Homs and a nearby command post - had reduced the regime's chemical weapons capability while minimising the risk to civilians.
"The strike was calibrated, proportionate and targeted," she said. "It sends a clear and strong message that the use of chemical weapons will not be tolerated by the international community.
"These violations of international laws and norms cannot be allowed to continue."
Michael Koziol is the immigration and legal affairs reporter for the Sydney Morning Herald and The Age, based in Parliament House