Australia is expected to extend its military deployment in Afghanistan beyond the current planned withdrawal at the end of next year after the US announced it would keep thousands of troops in the strife-torn nation.
The likely shift in the withdrawal timetable could mean several hundred Australian Defence Force troops remain in the country for the foreseeable future to help avoid seeing it slide back into chaos as Iraq has done after what critics say was a precipitous withdrawal by the US.
Prime Minister Malcolm Turnbull kept his options open on Friday, though he pointedly noted that the US decision to keep about 5500 troops in Afghanistan until at least 2017 "recognises the reality of the security situation in the field".
"We'll obviously be consulting closely with our American allies on that," Mr Turnbull said.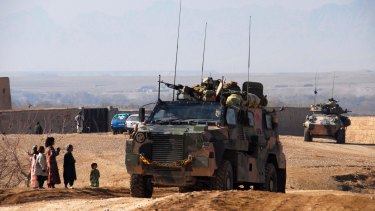 Fairfax Media understands that the US is expected to seek support from its NATO allies – under whose umbrella Australia operates in Afghanistan – and that many of these countries are likely to agree to keep some troops in the country.
Foreign Affairs Minister Julie Bishop and Defence Minister Marise Payne discussed the issue with senior American officials in the US this week and will brief Mr Turnbull after they return to Australia at the weekend.
The security situation Mr Turnbull referred to is a troubling one marked by recent Taliban gains including the brief takeover of the major northern city of Kunduz. The Islamic State terror group has also reportedly made inroads in the country, reaching out to younger and more radical Islamists who might otherwise have sided with the Taliban.
Senator Payne announced a fortnight ago that about 150 Australian soldiers had finished their mission in the southern Kandahar province, leaving about 250 troops based mainly in the capital Kabul. These troops are advising and mentoring Afghan security forces.
Under Washington's revised timetable, the current American force of 9800 troops will drop to about 5500 at the end of next year or in early 2017. Previously all troops were due to leave by the end of next year.
Ms Bishop has previously made favourable remarks about keeping some Australian involvement in Afghanistan – both military and economic – arguing it was needed to give the relatively new administration of President Ashraf Ghani a chance to succeed.
But Mr Ghani's government has struggled to make progress this year amid political infighting.
While US President Barack Obama did not mention Iraq during his announcement, it has long been expected that the debacle in that country would force Mr Obama to rethink a withdrawal in Afghanistan.
After the US withdrew from Iraq in 2011 – having failed to strike a legal agreement with Baghdad for a continued presence – then Iraqi Prime Minister Nouri al-Maliki, a Shiite, became increasingly repressive towards his Sunni sectarian rivals. This is widely seen as a key driver of the brutal Islamic State group's success in the country.
Some 3000 US troops and about 400 Australians are now back in Iraq trying to help prop up the Iraqi military in its fight against the Islamic State.
David Wroe is defence and national security correspondent for The Sydney Morning Herald and The Age.