The Australian Maritime Search and Rescue Authority has denied that it delayed assisting asylum seekers on a stricken vessel that sank near Christmas Island, leaving a baby boy drowned and eight people missing, presumed dead.
Asylum seeker advocates have accused the authority of not taking asylum seeker distress calls seriously as the death toll of refugees drowning on their way to Australia continues to mount.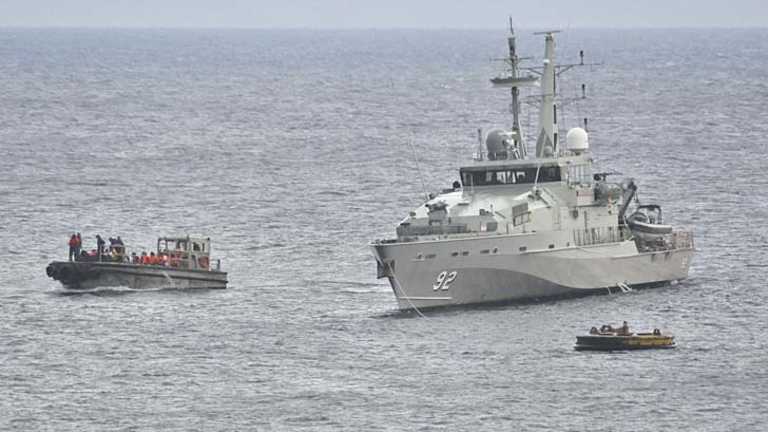 Pamela Curr, campaign co-ordinator from the Asylum Seeker Resource Centre, said it appeared authorities were deliberately delaying until incidents reached crisis point.
''We are concerned that a pattern has developed where boats seek assistance and that assistance is not rendered until people are in the water,'' she said.
The Australian Maritime Safety Authority said its Rescue Coordination Centre first received a call about the vessel, which had 97 people from Iran, Afghanistan and Sri Lanka on board, at 11.15am on Friday. It requested assistance from Border Protection Command to locate the vessel at 12.31pm and after identifying the area, alerted other ships in the vicinity at 3.05pm.
An oil tanker was the first ship to respond but the Australian customs vessel Triton did not arrive at the scene until 10pm, 30 minutes before the asylum seeker boat capsized.
An Australian Maritime Safety Authority spokeswoman said assistance was offered in a reasonable time frame. "The Australian Maritime Safety Authority takes all calls for assistance seriously.
''We have a team of dedicated search-and-rescue professionals working around the clock to receive calls, to assess the assistance required and then to organise the appropriate assistance as quickly as can practically be done.''
The authority's Rescue Coordination Centre is responsible for a region equivalent to a tenth of the Earth's surface, but Ms Curr said the routes taken by the vessels were well known to authorities.
''It's not that complicated,'' she said. ''Christmas Island is only 197 nautical miles from Java. There is a very direct route. They had a good chance of finding them. They keep trying to get away with this line that it's a big ocean. Well, if you look at the routes these boats take, you can narrow the search area down pretty easily.''
Response times were criticised last month after a boat capsized north-west of Christmas Island, killing about 55 asylum seekers.
In June last year, a boat contacted authorities four times before capsizing, leaving 17 men drowned and 73 missing, presumed dead. Figures compiled by independent researcher Marg Hutton show 599 confirmed drownings and an estimated 812 probable drownings of asylum seekers attempting to reach Australia by boat since 1998.
It's not that complicated ... you can narrow the search area down pretty easily.
Ms Curr said such tragedies should be prevented.
''These people are not on some Women's Weekly world discovery tour, they are making a desperate voyage,'' she said.
''We are becoming increasingly concerned that people are seeking assistance and it takes up to 24 hours before it is rendered.
''In the meantime they are being ignored. We know the Australian government doesn't want them in this country but is that interfering with their moral judgment?''

Rachel Browne is a Social Affairs Reporter for Fairfax Media
Morning & Afternoon Newsletter
Delivered Mon–Fri.