Millions of self-funded retirees could be targeted to help fund big-spending election promises this year as each side played the class card at the first parliamentary question time of the year.
Focusing on cost-of-living pressures and the recently abandoned government promise to deliver a budget surplus, Opposition Leader Tony Abbott called on Prime Minister Julia Gillard to join him in ruling out any ''unexpected adverse changes'' to superannuation arrangements, ''now or in the next Parliament''.
The opposition believes Labor is preparing to hit the wealthy via a dramatic tightening of superannuation tax concession rules in order to rescue its budget bottom line. A newly slimmed-down shadow treasurer Joe Hockey had earlier briefed his colleagues in the joint Coalition party room that the opposition would tell voters this year that Labor was ''coming after your money''.
Using his own circumstances to argue for greater funding discipline, he quipped: ''If I'm prepared to do this to my waist, think what I'm prepared to do to Labor waste.''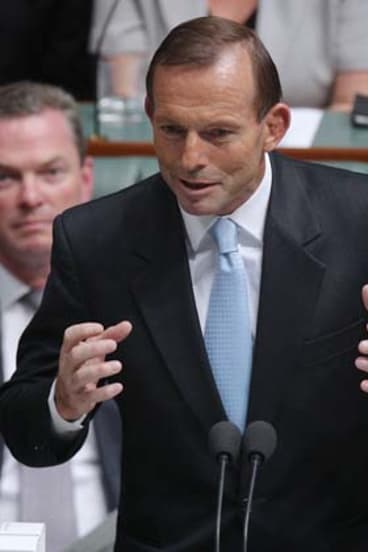 The cost of superannuation tax concessions, which allow tax-free super payouts for those over 60 and lower rates for money ploughed into super accounts compared with other earnings, is ballooning as the population ages. It is worth some $32 billion.
Welfare activists have called for more to be taken from those whose higher disposable income allows them to park extra money in superannuation.
Advocates of the reform believe it has the potential not just to return billions to the cash-strapped budget but would be consistent with Labor's philosophy of helping out low and middle-income families first.
Refusing to take up Mr Abbott's offer, Ms Gillard instead slammed the opposition for not providing costings for its own policies.
She said the government would always ''do the right thing'' by ''decent hard-working Australians and modern families who we seek to serve''.
She also slammed her opponent for previously refusing to back the employer-funded super increase from 9 per cent to 12 per cent, which he had branded at the time as ''a con'', and for planning to end the low-income superannuation concession.
''In stark contrast, the leader of the opposition has said to families around the nation, to working people around the nation, that he will rip off their superannuation,'' she said.
''In particular, he has said he is determined to rip away the low-income superannuation boost that we are giving them.''
The government says the plan provides benefits of up to $500 a year to 3.6 million lower-income earners with annual incomes below $37,000 per year.
In a sign of things to come in what will be a hard-fought and hyper-extended election campaign, Ms Gillard accused the opposition of hitting those with least power, a group whom she described as predominantly women. ''Three in 10 workers in this nation are on his hit list, people who he wants to see poorer when they retire,'' she said.
The temperature of parliamentary exchange showed it was business as usual.

Mark Kenny is the national affairs editor for the Sydney Morning Herald and The Age, based at Parliament House
Morning & Afternoon Newsletter
Delivered Mon–Fri.