Former Howard government minister Mal Brough had an interest in meeting a former adviser to suspended Speaker Peter Slipper to give him advice about how to pursue sexual harassment claims, a senior cabinet minister says.
Mr Brough has admitted that he met James Ashby three times this year and told him to go to the police and seek legal advice in the weeks before he filed a claim against his boss.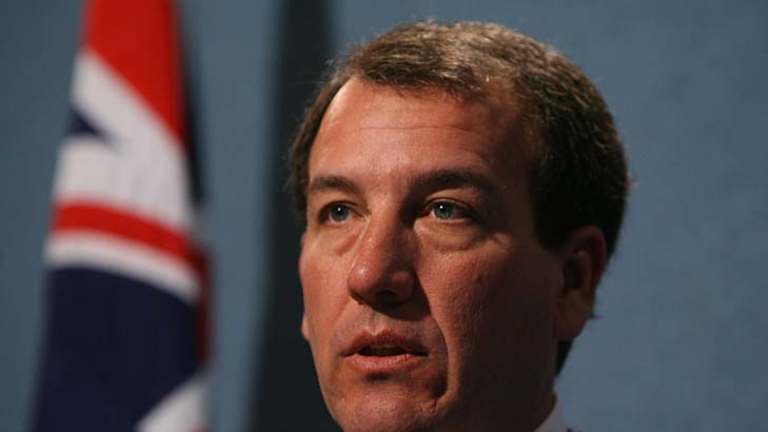 Federal Infrastructure Minister Anthony Albanese said today that while he ''certainly'' empathised with someone pursuing a sexual harassment complaint, the fact that Mr Brough was seeking Liberal preselection in Mr Slipper's Queensland Sunshine Coast seat of Fisher compromised him.
''Mr Brough, of course has an interest ... as the candidate for Fisher,'' he told reporters in Sydney today.
''He's not Neville nobody here, he's the person who wants Peter Slipper's seat in the federal parliament.''
Mr Albanese said the Coalition needed to reveal its dealings with Mr Ashby.
''We need to know what was the involvement with the Coalition. Bit by bit, they say: 'Nothing to do with us','' he said.
Mr Brough admitted to the meetings with Mr Ashby after the National Times yesterday reported the two had met on the Sunshine Coast in the days before the sexual harassment claims against Mr Slipper were made public.
Mr Brough told The Australian that Mr Ashby had sought him out for help on the advice of local party official Valerie Bradford.
He said he told Mr Ashby: ''You had better know that what you are saying is true and beyond any doubt.''
"And, if it is, my strong advice to you is to go to the AFP with your claims of criminality and you had better get yourself legal advice regarding the civil matter.''
Mr Brough denies ever speaking to any opposition MPs, their staffers or the LNP about Mr Ashby and his allegations.
''I did not speak to Pyne, or Pyne's office, or to Abbott or anybody like that,'' he said.
Mr Brough waged a two-year campaign in the LNP branch to oust Mr Slipper as candidate at the next election.
AAP
Morning & Afternoon Newsletter
Delivered Mon–Fri.